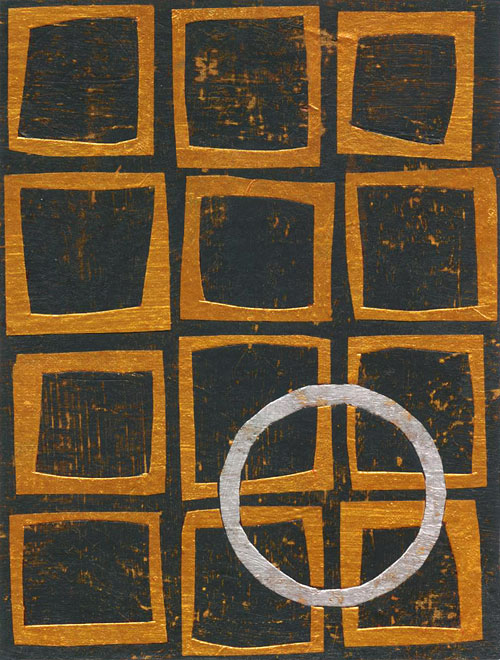 Image: Finding the Focus © Jan Richardson
Readings for Lent 2, Year B:
Genesis 17.1-7, 15-16; Psalm 22.23-31; Romans 4.13-25; Mark 8.31-38 or Mark 9.2-9

Christ calls each of us to a path that enables us to find and
follow the presence of the holy in the midst of being human,
not in spite of being human.
—from Lent 2: In Which We Set Our Minds Somewhere
The Painted Prayerbook, March 2009
Spiraling once again around the lectionary readings for the next Sunday in Lent, I've been drawn by the thread of hope that weaves through them. I will bless her, and she shall give rise to nations, God says of Sarai in Genesis 17. The poor shall eat and be satisfied, the psalmist sings in Psalm 22. Hoping against hope, he believed, Paul writes of Abraham in Romans 4.
In Sunday's gospel reading from Mark, the message of hope is couched in grim words. Then [Jesus] began to teach them that the Son of Man must undergo great suffering, and be rejected by the elders, the chief priests, and the scribes, and be killed, Mark writes. But he closes the sentence with these words: and after three days rise again. Peter, it seems, is understandably overwhelmed by the first part of Jesus' teaching here and fails to grasp the import of this last part. Suffering, rejection, death, he hears. And though, with the benefit of our hindsight, his response to Jesus may seem selfish and misplaced, Peter is bold to take Jesus aside, seeking to persuade him toward what he believes will be a life-giving path.
We know how Jesus responds to Peter; we hear the harshness of his rebuke and the difficulty of the message he goes on to proclaim to the disciples and the surrounding crowd. We see that the hope Jesus brings to us will ask something of us. It will cost.
Throughout his life and teachings, Jesus makes clear that the hope he embodies, the hope he holds out to us, is not passive. Hope is not an idle wish for things to get better. Instead, hope calls us to action. It asks us to align and ally ourselves with the God who is the source of hope, and who calls us to participate with God in working for the wholeness that God desires for us and for the world.
It is easy to become overwhelmed by the forces that live in fierce opposition to this wholeness. I have been contemplating these texts in a week that has held horrifying violence here in Florida, yet another occurrence in the seemingly unending cycles of violence spiraling through our world. In the midst of this, I have found myself thinking of a poem by Rumi, where he says,
There is a secret medicine
given only to those who hurt so hard
they can't hope.
The hopers would feel slighted if they knew.
At the heart of Jesus' rebuke to Peter and the hard, hard lesson that follows, there is a message about what it means to hope—to hope against hope, as Paul writes of Abraham; to hope when there seems no cause for hope, to hope in the face of forces that work against hope. We belong to a God who tells us, as Jesus tells his hearers, that what is torn down will be raised up, and what is destroyed will live again. Because we belong to this God, hope lives even when we feel we have lost it, and cannot summon it up in ourselves. Christ knows about the secret medicine that kicks in when hope is at an end. It is part of what he has come to give us.
Hope does not depend on us, but it cannot do without us. By which I mean, hope does not originate with us—it has its beginning in God, who goes on providing it for us with an extravagant stubbornness. It comes as a gift and grace that we cannot manufacture. But hope does need us for its ongoing survival. It asks us to give it legs in this world, to bear it into places of hopelessness, to enter into the rhythms of dying and rising that come as we follow Christ and work with him for the healing of the world.
In these Lenten days, what gives you cause for hope? Where do you place your attention, your mind, your focus, in ways that deepen your capacity to hope and to live out this hope in the world?
As we celebrate ten years at The Painted Prayerbook, I've gathered together a collection of reflections I've written across the past decade for this week's lectionary readings. I offer them with hope and with many blessings.
Mark 8.31-38
2nd Sunday in Lent: For the Sake of the Gospel
Lent 2: In Which We Set Our Minds Somewhere
Day 10: Divine Things and Human Things
Reflections Related to Mark 8.31-38:
Blessing in the Shape of a Cross
To Have without Holding
Mark 9.2-9
For reflections on this passage, visit Transfiguration Sunday: In the Turning.
Genesis 17.1-7, 15-16
Day 5: I Will Establish My Covenant
Day 6: I Will Bless Her
Psalm 22.23-31
Day 7: The Ends of the Earth Shall Remember
Romans 4.13-25
Day 8: Who Gives Life to the Dead
Day 9: Hoping Against Hope
Using Jan's artwork…
To use the image "Finding the Focus," please visit this page at janrichardsonimages.com. (This is also available as an art print. After clicking over to the image's page on the Jan Richardson Images site, just scroll down to the "Purchase as an Art Print" section.) Your use of janrichardsonimages.com helps make the ministry of The Painted Prayerbook possible. Thank you!
Using Jan's words…
For worship services and related settings, you are welcome to use Jan's blessings or other words from this blog without requesting permission. All that's needed is to acknowledge the source. Please include this info in a credit line: "© Jan Richardson. janrichardson.com." For other uses, visit Copyright Permissions.
The Rumi quotation comes from the poem "My Worst Habit" in The Essential Rumi, translated by Coleman Barks with John Moyne.