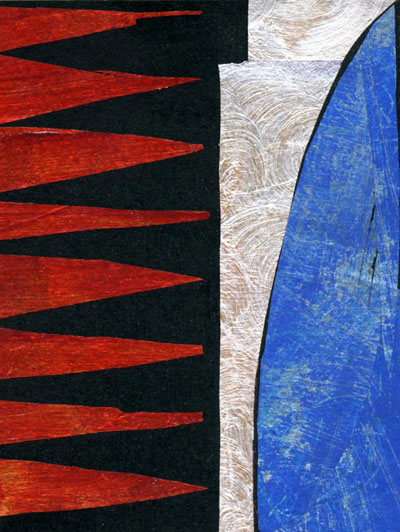 Discernment in the Desert © Jan L. Richardson
One day some years ago, taking a walk with one of my Franciscan friar friends, I asked him, "What's discernment like for you?" I was in the midst of making some decisions and found myself curious to know how he sorted through the choices in his own life. Being a good Franciscan, David's response included a couple of stories about St. Francis.
In the first story, St. Francis and Brother Masseo are on a journey and come to a crossroads. Not knowing which path to take, St. Francis tells Brother Masseo to stand at the center of the crossroads and spin himself around. When Masseo finally falls down, Francis and his dizzy brother set off in the direction in which Masseo had landed.
In the second story, Francis is trying to discern whether he should spend all his time in prayer, or whether he should also go out and do some preaching. He senses this is not something he should decide for himself, so he enlists Brother Masseo's aid once again. He sends Masseo to two trusted souls, St. Clare and Brother Sylvester, to ask them to pray about this question. In prayer, they each discern the same response: Go and preach. When Brother Masseo takes this word back to Francis, he leaps up, saying, "In the name of the Lord, let's go!"
As someone capable of making the act of discernment a loooooooong and involved process, I have found great companions in both the tales that David shared. The first story may strike us as a bit silly, but it reminds me that on those occasions when there's no one path that's obviously the right one to take, it's often better to set off in some direction if the alternative means staying stuck at the crossroads. God knows how to make use of any path.
The second story reminds me of the importance of turning to those who can help me in times of discernment. Faced with a momentous decision, Francis realized the question was too big for him to find his way through alone. He sought the insight of those who knew both him and God well. When their mutual answer came, Francis trusted it to be the voice of God, and he moved forward without hesitation.
This Sunday's Gospel lection, Matthew 4.1-11, finds Jesus on a journey of discernment. With the waters of baptism still clinging to him, Jesus enters the wilderness, where for forty days and forty nights he fasts and prays. His wilderness experience continues the initiation begun by the ritual of his baptism. Son of God he may be, but here at the outset of his ministry, he needs this liminal space, this in-between place, to deepen his clarity and to prepare him for what lies ahead. In this harsh landscape, bereft of any comforts that might distract him, Jesus comes to a vivid knowing about who he is and what is essential to his ministry. When the devil shows up at the end of his fast, Jesus is so centered and clear that nothing the tempter says can distract or entice him.
The root meaning of the word discernment has to do with sifting and separating. When there's a lot to sort through, it can be, as Brother Masseo found, a dizzying process. The work of discerning one direction or choice from among many may require that we separate ourselves. Removing ourselves from at least some of our usual routines, for moments or for months, can shift the way that we view our life. It doesn't often require taking ourselves to a literal wilderness in the manner that Jesus did. But his sojourn there reminds us there is wisdom in knowing when to turn toward a place, a person, or a practice that can help us see what we cannot always see under our own power.
This wisdom lies at the heart of Lent. These days challenge us to take on a practice, or give one up, so that we can look at our lives in a different way. As Jesus knew, going into the barren and uncomfortable places isn't about proving how holy we are, or how tough, or how brave. It's about letting God draw us into the place where we don't know everything, don't have to know everything, indeed may be emptied of nearly everything we think we know. And thereby we become free to receive the word, the wisdom, the clarity about who we are and what God is calling us to do.
Mercy, I love that the angels come to Jesus, there in that wilderness. I imagine them showing up with armfuls of bread and plenty of wine after the tempter has tucked tail and split. I like to think maybe they looked a little like Masseo and Clare and Sylvester.
So here I am, come to ask you the same question I asked David on that road a bunch of years ago: What's discernment like for you? When you have a choice to make, when something needs sorting and sifting, what do you do? Is there a place, a person, a practice that helps you see what you need to see? Do you have someone like Clare or Sylvester who listens so well to both you and God that they help you hear God's longing for you? Are you keeping your eyes open for the sustenance that comes in even the deepest wilderness?
Here's a poem for your Lenten path.
Desert Prayer

I am not asking you
to take this wilderness from me,
to remove this place of starkness
where I come to know
the wildness within me,
where I learn to call the names
of the ravenous beasts
that pace inside me,
to finger the brambles
that snake through my veins,
to taste the thirst
that tugs at my tongue.

But send me
tough angels,
sweet wine,
strong bread:
just enough.
Blessings to you in all your sorting and sifting. I wish you angel-borne treats in these days.
(Prayer © Jan Richardson from In Wisdom's Path: Discovering the Sacred in Every Season.)
[To use this image, please visit this page at janrichardsonimages.com. Your use of janrichardsonimages.com helps make the ministry of The Painted Prayerbook possible. Thank you!]