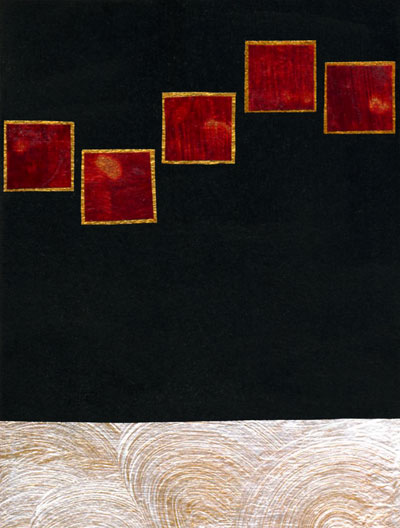 Resurrection © Jan L. Richardson
Reading from the Gospels, Easter Day, Year B: John 20.1-18 or Mark 16.1-8
John's telling of the Easter story has long had a powerful hold on my imagination. The encounter between Mary Magdalene and the risen Christ continues to coax me deeper into the mysteries of this day. I have written elsewhere about some of the things that strike me about their garden meeting, including how Mary has to decide whether she will try to cling to what she has known, or whether she will accept Jesus' invitation to leave the garden and proclaim what she has seen this day.
What I find myself pondering this time around, however, is what happens after Mary Magdalene leaves the garden. For her willingness to let go, to step into her new life, and to proclaim what she has seen, the Magdalene becomes known (at least in some quarters) as the "apostle to the apostles." There's a wonderful depiction of her apostolic proclamation among the pages of an illuminated manuscript that's among my favorites. The St. Albans Psalter belonged to a 12th-century Englishwoman named Christina of Markyate, for whom the psalter may have been originally created. Christina lived as an anchoress, a woman called to prayer and solitude. I wonder what this woman, so devoted to the Word, thought about as she pondered this image of Mary Magdalene, telling the good news of the risen Word. Scholars have pointed out that such a depiction of Mary was, in those days, quite rare.
Centuries after the fact, the Magdalene's Easter proclamation contributed to the wonderful legend that she moved to France and became a famous preacher. (Here's my depiction of that legend; I like to think that after this sermon, Mary went for an espresso and a chocolate croissant. France, you know?) This tale of Mary the French evangelist is one in a cycle of Magdalene legends that are short on evidence but long on power and charm. Though lacking in fact, such legends offer insights into the lasting power of Mary Magdalene to stir questions about her role in the life of Jesus and in the formation of the early church.
Whatever may have become of the Magdalene beyond Easter morning, John's Gospel clearly tells us that it was to her that the risen Christ first revealed himself, and she was the one he called to carry the news that everything had changed.
On the threshold of this Easter morning, what is the good news that the risen Christ calls you to proclaim? Is there anything you need to release, in order to tell what you have seen?
On this day: blessings, blessings.
[To use the "Resurrection" image, please visit this page at janrichardsonimages.com. Your use of janrichardsonimages.com helps make the ministry of The Painted Prayerbook possible. Thank you!]