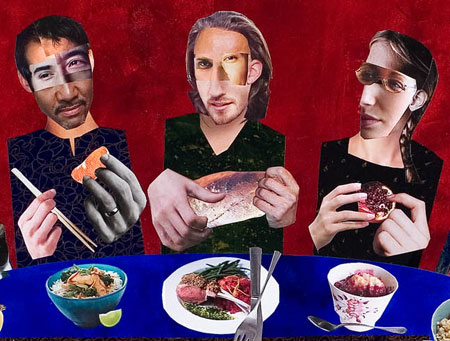 The Welcome Table (detail) © Jan L. Richardson
Reading from the Gospels, Easter 3: Luke 24.13-35
Last week I wrote my lectionary reflection as I was preparing to leave for North Carolina to be with my sweetheart and his family as their mother was dying. I arrived on Saturday evening, and we went from the airport straight to the hospital, where we joined Gary's brothers and a sister-in-law as they waited with their mother. Shirley had slipped into unconsciousness the day before, shortly after a time of prayer with her four sons. After their prayer, Shirley had pulled aside her oxygen mask and said, "There are plenty of sheets and towels at the house."
Shirley died later Saturday night, a few hours after Gary and I left the hospital. We had her funeral on Tuesday, and Gary, his son, and I drove back to Florida yesterday. I had just enough time to unpack, do laundry, repack, and grab a few hours of sleep before heading to the airport this morning to fly to Connecticut, where I'm leading a retreat this weekend.
In the midst of the events of the week, there hasn't been time to do a collage. There has, however, been plenty of time to eat. Maybe it's a cliché, but it's one that holds true: Southerners do the food-after-death thing really well. The day after Shirley died, some church folks showed up at her house, where all of her family was camped out. With her sons and their families, there were nearly thirty of us, and there was plenty of sustenance on hand. We sat at Shirley's tables and ate. We stood around her kitchen counter and ate. We went to one of her favorite lakeside restaurants and ate. I often found myself thinking of Kate Campbell's song "Funeral Food." ("Pass the chicken, pass the pie/We sure eat good when someone dies.")
Amidst the shared meals, replete with the comforts they offered, I also spent some time pondering this week's timely Gospel lection. Luke 24.13-35 offers the story that's typically called The Walk to Emmaus, though the part that especially grabs my attention involves what happens after Jesus and his traveling companions come to the end of their walk. Luke tells us that Jesus, unrecognized by Cleopas and his companion (there's cause to think it might have been Cleopas' wife) as they walked together, accepts their invitation to stay the night with them. They gather at the table, the ultimate place of hospitality. In that gesture that was so familiar in his life, Jesus took bread, blessed it, and broke it. Luke tells us that it was in this moment that "their eyes were opened, and they recognized him"; in Jesus' actions of breaking and blessing, they knew him. ("now the ears of my ears awake and/now the eyes of my eyes are opened," e.e. cummings once wrote.)
Given the confusion around Jesus' death and rumored resurrection, this is some serious comfort food. Yet this is more than a solacing dinner. The meal at Emmaus reveals the resurrected presence of Christ, who, as before his death, still loves to sit down with folks at a table. In a brilliant moment of illumination, his dining companions see, and understand. The knowledge he had tried to impart to them as they walked along the road now becomes flesh: what they had tried to grasp with their intellect as Jesus broke open the scriptures, they now experience in and with their bodies as Jesus breaks the bread.
Jesus had been so fond of feasting when he was alive that he earned a reputation of being "drunkard and a glutton, a friend of tax collectors and sinners." Even after his death and resurrection, he does not seem interested in refuting his depiction as a guy who likes his groceries; in fact, he seems to relish it. The table at Emmaus is not his only post-resurrection meal. John tells a marvelous story of the risen Jesus feeding several of the disciples a seaside breakfast of fish and bread. (John 21.1-14)
It's important to Jesus that his followers engage the mystery that happens in a meal, that they know the table as a place where we recognize that we cannot rely solely on ourselves to summon the sustenance that we need. A shared table is a sacred space where we acknowledge, in the presence of others, that we are hungry: not only for the feeding of our bodies but also of our souls.
The table at Emmaus reminds us that there is a profound connection between eating and knowing. This knowing that we experience at the table comes both as a deep comfort and also a keen challenge. As Cleopas and his companion discovered on that evening in Emmaus, the presence of Christ persists when his followers gather to eat. Particularly in times of confusion and grief, his presence at the table comes as comfort and solace indeed. The knowing that happens in the breaking of bread, however, requires something of us. This kind of knowing calls us to move beyond relying solely on our intellect and to open our eyes and our entire being to the ways in which Christ reveals himself in those with whom we eat.
In these days of resurrection, what are you hungry for? What kind of table hospitality are you giving or receiving? How is the table a place of comfort? Of challenge? Of knowing?
In this season and beyond, may we receive—and be—God's daily bread.
[To use the "Welcome Table" image, please visit this page at janrichardsonimages.com. Your use of janrichardsonimages.com helps make the ministry of The Painted Prayerbook possible. Thank you!]