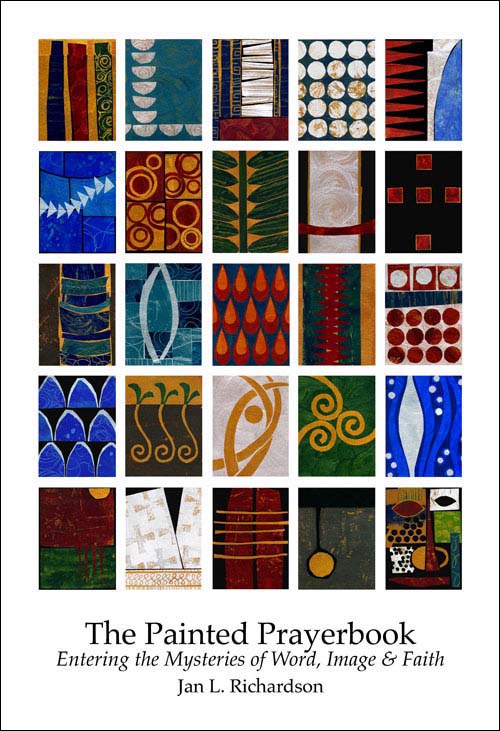 The Feast of the Epiphany, which we celebrate tomorrow, will mark a year since I revamped this blog and renamed it The Painted Prayerbook. (I hear they call this a blogiversary, but don't feel obligated to send a gift…) Looking back, I'm struck by the cumulative power of keeping a practice over time. Having devoted a portion of each week of the past year to creating a collage as part of my reflection on the lectionary, I'm entering this year with more than a card deck's worth of these 3″ x 4″ pieces of art. They are a good reminder to give some thought to the practices I want to cultivate in the coming year, and what I want to be accumulating as the months go by.
I've selected twenty-five of these images and gathered them together in a new print to begin this new year. I'd love to share it with you! The print is available on my website, either by visiting the main page at janrichardson.com or by going straight to the Color Prints page.
Please know that purchasing a print (or anything else on my website) provides direct sustenance for my ministry, for which I raise my entire income. I am especially grateful for your support—in all its forms—as I focus on writing a new book this year. I'm reckoning with the fact that for the next six months, being absorbed with the book will necessarily involve doing fewer of the retreats and workshops that typically help to sustain my ministry. It's high time, however, to give more attention to the writerly part of my vocation, and to finally produce a new full-length book, my first in years. Prayers (and orders) are welcome as I work to do this and to keep bread on my table at the same time!
And while I'm in an inviting kind of mood, I want to make sure you know that I have an e-newsletter that I started last fall and would be delighted to include you in my mailing list if you haven't already subscribed. You can sign up here. I send the newsletter about once a month; the next one—the Epiphany edition—will go out tomorrow.
Happy New Year and a Merry Epiphany to you! I look forward to sharing the months to come. May 2009 hold many wonders for you and yours.