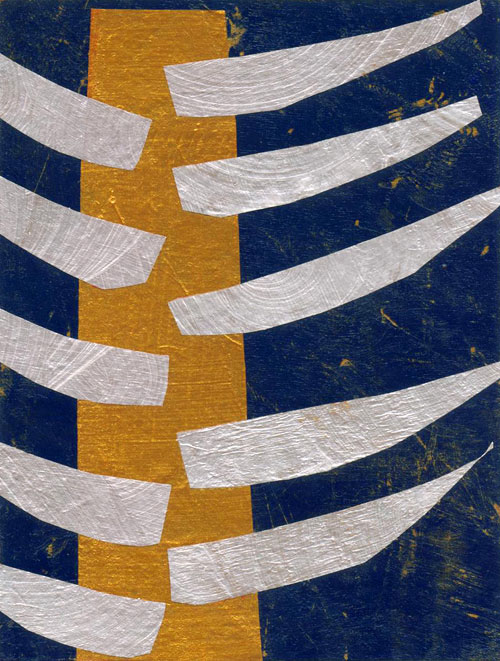 Between Heaven and Earth © Jan L. Richardson
Reading from the Gospels, Epiphany 2: John 1.43-51
This is a week in which I've been trying to figure out how to write a book and work on a blog at the same time. I could tell you how, in the course of this, I have been thinking for days about fig trees and angels. I could remark on how for the Israelites the fig tree symbolized home and security, how in 1 Kings 4.25, we read that "During Solomon's lifetime Judah and Israel lived in safety, from Dan even to Beersheba, all of them under their vines and fig trees," or how Zechariah 3.10 tells of a hopeful day in which "you shall invite each other to come under your vine and fig tree." I could tell you how struck I am by Nathanel's question to Jesus in Sunday's gospel lection: "Where did you get to know me?" And I could comment on how blown away Nathanel is when Jesus tells him, "I saw you under the fig tree before Philip called you."
I might choose to use exclamations like "Zowie!" to describe Nathanel's reaction to what is, after all, a miracle quite small by comparison to what Jesus will yet do. And I could explore and expound on how Jesus tells Nathanel what a tiny thing it is, knowing him from seeing him beneath the fig tree, his place of safety, the whole world that Nathanel has known up to now.
On any other day I might tell you how much it captivates my imagination, the way that Jesus tells Nathanel, that fig-tree-sitter-under, "Very truly, I tell you, you will see heaven opened and the angels of God ascending and descending upon the Son of Man." I could say how cool this is, how Jesus evokes the story of Jacob, who dreamed in the wilderness of a ladder of angels between heaven and earth, and woke to a larger world than he had ever known, and recognized that God had been in that place.
I could say all this, and more. But what I am come to ask you on this evening in Epiphany is this:
What do you imagine the God of heaven and earth, the God who bridges heaven and earth and causes them to meet—what do you imagine this God is capable of? Can you imagine something beyond that? And beyond that? How might this God be inviting you to imagine and participate in something bigger still? What is the fig tree you will need to leave in order to see the more amazing things God has in store?
May we have imaginations that stretch between, dream between, dwell between heaven and earth. Blessings.
[To use the "Between Heaven and Earth" image, please visit this page at janrichardsonimages.com. Your use of janrichardsonimages.com helps make the ministry of The Painted Prayerbook possible. Thank you!]