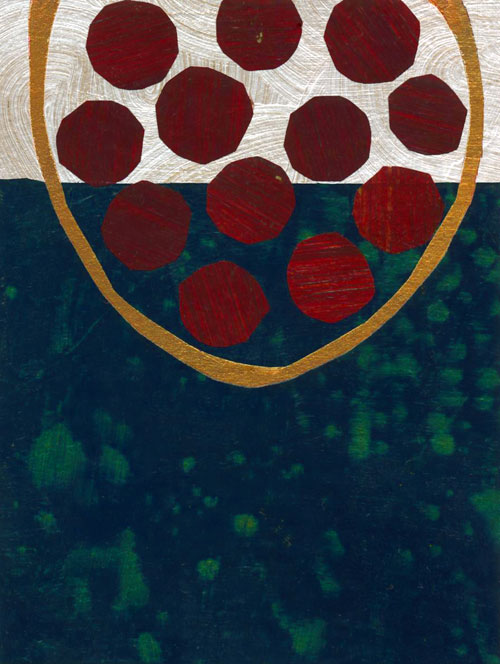 The Willing Catch © Jan L. Richardson
Reading from the Gospels, Epiphany 3, Year B: Mark 1.14-20
Thomas Merton, the famed Trappist monk of the 20th century, once took a picture that he titled "The Only Known Photograph of God."
The picture was of a meat hook.
I keep thinking of this stark image, and Merton's title, as I ponder this Sunday's gospel lection, in which Mark offers his version of Jesus' call to the kindred fishermen Simon and Andrew. "Follow me," Jesus says, "and I will make you fish for people." His invitation stirs the unsettling question: if fish are food, a catch intended for consumption, then what is it that we people are to God, once we fall into the net of the divine?
Long before the arrival of Jesus, the Jewish tradition had taken pains, in the form of the story of Abraham's near-sacrifice of his son Isaac, to make clear that Yahweh doesn't require human sacrifice. The God of Israel presents other conditions for right relationship, as we read, for instance, in Micah 6, where the question arises: "With what shall I come before the Lord, and bow myself before God on high?…Shall I give my firstborn for my transgression, the fruit of my body for the sin of my soul?" "…and what does the Lord require of you," comes the response, "but to do justice, and to love kindness, and to walk humbly before your God?"
I wonder if the people of Israel ever wondered if human sacrifice might be easier, after all, than all this justice and kindness stuff.
It can feel consuming, being in relationship with God: it requires so much more of our very selves than simply offering a sacrifice that's detached from us. And for all that it asks of us, our participation in God doesn't offer much in the way of earthly security, as Mark reminds us: this lection begins with a mention of the arrest of John the Baptist, who would soon meet his earthly end in the context of a meal.
It's challenging at times to reconcile the seeming paradox that giving ourselves to a God of love and mercy does not always protect us from heartache and suffering; in fact, it sometimes does just the opposite. Called to engage the world, we find ourselves drawn more deeply into the pain and despair present there—along with (thank God) the delight. In each place Christ calls us to notice and to embody the presence and love of God: to be the living body of Christ, who spoke of his own self as food, as sustenance.
As Merton recognized, it can leave us feeling like we're on the meat hook of God, the way that God claims and hungers for our deepest selves and sends us into the world to be Christ's body, to offer his sustenance. Given what a consuming, demanding, and sometimes perilous prospect it can be to share fully in the life of Christ, one might well wonder: what compels us to follow him?
What lures you to Christ? What is it about him that beckons you, calls to you, compels you not only to follow him but also to reach out in invitation to others? What is it about Jesus that hooks you?
In a culture that too often tries to scare and threaten us into a relationship with Christ, may we see clearly who he is and embody his fierce and sustaining love in a desperately hungry world. Blessings.
[To use the "Willing Catch" image, please visit this page at janrichardsonimages.com. Your use of janrichardsonimages.com helps make the ministry of The Painted Prayerbook possible. Thank you!]