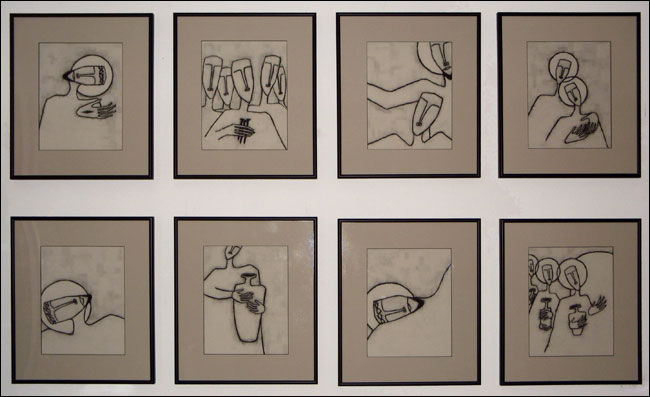 As Ash Wednesday approaches, I thought this would be a good time to do a bit of housekeeping here at The Painted Prayerbook. I have a few artful Lenten offerings I want to let you know about, along with some related news.
ORIGINAL ART: The artwork above is a series of charcoals that I did several years ago for Peter Storey's book Listening at Golgotha, which offers a collection of reflections on the Seven Last Words of Jesus. The original artwork is available for sale (as an intact series), beautifully matted and framed. Great for a church, chapel, or other space for devotion/worship, especially during Lent and Holy Week. For more information, visit The Seven Last Words Series.
MORE ORIGINAL ART: I have a few of the original pieces from The Hours of Mary Magdalene available. For details, visit The Hours of Mary Magdalene and click on the individual images.
ART PRINTS: All of the images from The Seven Last Words Series and The Hours of Mary Magdalene are available as prints; check out the Art Prints page on my website. You can also purchase prints of The Lenten Series (illustrations from my book Garden of Hollows) as well as prints of artwork from my books and my blogs.
A LITERARY LENT: Published through my small press, Garden of Hollows: Entering the Mysteries of Lent & Easter offers artwork and reflections on the sacred texts and themes of the coming season. You can read excerpts and order at Wanton Gospeller Press. My book In Wisdom's Path: Discovering the Sacred in Every Season includes a section for Lent and Easter. Visit the Books page on my website for details on this book that includes lavish, full-color artwork.
IMAGES ONLINE: Thanks so much to everyone who has requested permission to use my artwork. In response to the number of requests, I'm working to create a website that will enable congregations and other communities to download high-resolution files of my images for use in worship and educational settings (bulletin covers, PowerPoint, etc.). The artwork will be available for a per-image fee, or, for an annual subscription, churches can have access to all the images for a whole year. I'm aiming to have this ready sometime this spring, and I look forward to having this new service available as a way to share mutual creative support with worshiping communities and other groups. In the meantime, I am always happy to respond to individual requests. Thank you for being mindful that, like most artwork, the images on my blogs, website, and in my books are under copyright. I am really happy for folks to make use of my artwork, but permission must be sought for use of these images in any format. Details and contact info are available at Copyright Permissions.
eNEWSLETTER: I send out an e-newsletter every month or so. It includes a seasonal reflection, artwork, information about current offerings and upcoming events, and whatever else strikes my creative fancy. I would be delighted to include you in my mailing list if you haven't already subscribed. You can sign up here.
GRATITUDE: Most of all, thank you for visiting The Painted Prayerbook and for the sustenance and companionship you provide along the way. Your comments, emails, prayers, and presence are all tremendous gifts on my path. Please know that I pray for you and that I carry a heap of gratitude for the ways you help make possible my work in this world.
Many blessings to you in these remaining days of Epiphany!