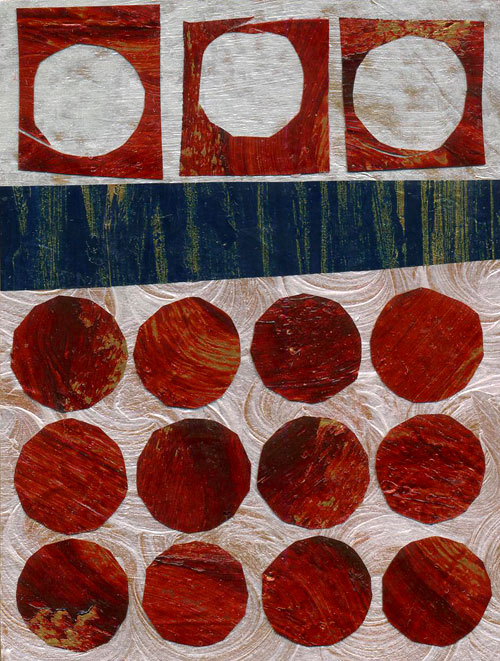 The Feast Beneath © Jan L. Richardson
Reading from the Gospels, Proper 18B/Ordinary 23B/Pentecost +14: Mark 7.24-37
Greetings in the midst of a quick turnaround between trips. I recently returned home from two weeks at the wondrous Grünewald Guild in the Cascade Mountains of Washington State, where I spent a week teaching a class called The Soul of the Book—one of my absolute favorite things I do all year—and lingered for another week to work on my book-in-progress and to soak up the splendid community that the Guild attracts. With its focus on exploring the connections between art and faith, the Guild is a place where I find my tribe.
Separated from that community now that I'm back home, I'm in a bit of withdrawal, but I'll have something of a remedy over the next few days—a little hair of the dog, as it were. I'm leaving today for my annual Labor Day reunion with a group of girlfriends from seminary. Each year we rent a house on an island off Savannah, Georgia, and spend our days talking and eating and talking and sitting by the pool and talking and walking on the beach and talking and napping and…
My time at the Guild, where I've taught for half a dozen summers, and my days with the seminary chicks, with whom I've gathered for more than fifteen years, always provide a feast for body and soul.
Sustenance for body and soul is the theme of this Sunday's gospel lection, although, in the case of the Syrophoenician woman who pleads—with great wit—for a healing for her daughter, the feast is rather hard won. As I finish packing my bags, I invite you to visit the reflection I wrote last year on Matthew's version of this story, where he describes the intrepid mother as a Canaanite woman. Click this link to pay a visit: The Feast Beneath.
Many thanks to those who have sent good wishes and prayers as I work on my book. I sent a portion of the manuscript to the publisher last month and am working to complete the remainder. The publication date is set for Fall 2010. Your continued prayers for this massive project are most welcome! I look forward to returning to my regular blog writing sometime this fall.
Blessings and peace to you in this turning of seasons.
[To use this image, please visit this page at janrichardsonimages.com. Thanks!]