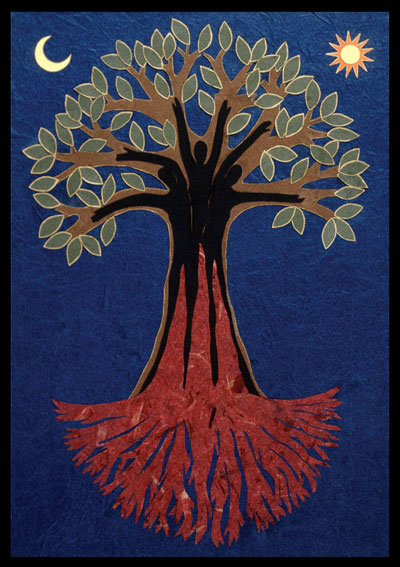 Mother Root © Jan L. Richardson
Thanks so much to everyone who stopped by this past week  and to those who sent lovely words via a comment or an email. It was great to get to provide  support in word and image to folks preparing to celebrate World Communion Sunday. I've thought of all of you on this day that invites us to remember that each time we gather at the Communion table, we celebrate not just with our own community but also with sisters and brothers around the world and with the Communion of Saints across the ages. It's a wide, wide table to which Christ invites us, with all its challenges and delights. I hope you had wondrous celebrations.
Although I'm blogging more sporadically these days while I work to finish my new book, I'd love to support you in whatever way I can, particularly with artful resources. Images are always available at janrichardsonimages.com. I designed this website to make my artwork easily accessible for use in worship, education, and related venues. If you'd like to use any of the artwork that you find here at The Painted Prayerbook, you can acquire it from the website. High-resolution files of single images are available for a nominal cost, or, with an annual subscription, you can have unlimited access to all the images (within the Guidelines for Use). Although I'm not creating new art for the lectionary readings right now (though I look forward to returning to this later in the fall), the cool thing about art, especially abstract art, is that it invites an array of interpretations. So of course you are most welcome, as always, to use an image even if it wasn't designed for the specific scripture or theme that you're pondering.
I welcome you also to stop by janrichardson.com, where you can find creative companions for your journey—or someone else's—in the form of art prints, greeting cards, and books.
Your use of Jan Richardson Images and your purchases at janrichardson.com go directly to support my ministry, for which I raise my entire income. Your support is a crucial form of patronage that helps make it possible for me to continue in this ministry, including providing this blog, and I am tremendously grateful for those who sustain my work in this way. I invite you to find out more about being a patron at the Be a Patron page.
Thanks so much for visiting and for all the ways you share in my ministry, including the prayers and the words you send my way—they are tremendously heartening and are manna for my path. I wish you many blessings in these October days.
P.S. Advent's not far away—if you're planning ahead, I have lots of artwork for the season at janrichardsonimages.com (check out "Advent & Christmas" in the categories menu), and you can visit two years' worth of art and reflections at my other blog, The Advent Door. I look forward to adding new work there as Advent unfolds this year.