Getting Garbed © Jan L. Richardson
Reading from the Gospels, Year A, Proper 23/Ordinary 28/Pentecost +17: Matthew 22.1-14
Oh, October! We are crossing into my favorite time of the year. I can already feel something in my spirit begin to shift as we move into this season that brings cooler weather (so welcome here in Florida), festive days, and preparations for Advent. I have the windows to my studio wide open and am eager to see what the coming months will bring.
This week, the lectionary offers us Jesus' parable of the wedding banquet. Here's my previous reflection on this passage:
Since that reflection begins with a mention of my wedding anxiety dreams, I thought I'd include here a bit of proof that I made it through! Here's me, just after our ceremony last year—a wondrous occasion held on the farm that's been in the Richardson family for several generations. While my crew searches for the elusive loops to bustle up my train, I am breathing a sigh of relief, reveling in a day for which I had, in fact (contrary to my anxious dreams), sent out the invitations, planned the service (with Gary's collaboration), finished dressing by the start time, and found a wedding gown that I—who hadn't even been sure I'd wear anything resembling a wedding dress—loved more than I ever imagined possible. Okay, finding the dress did happen only a few weeks before the celebration, but it did happen!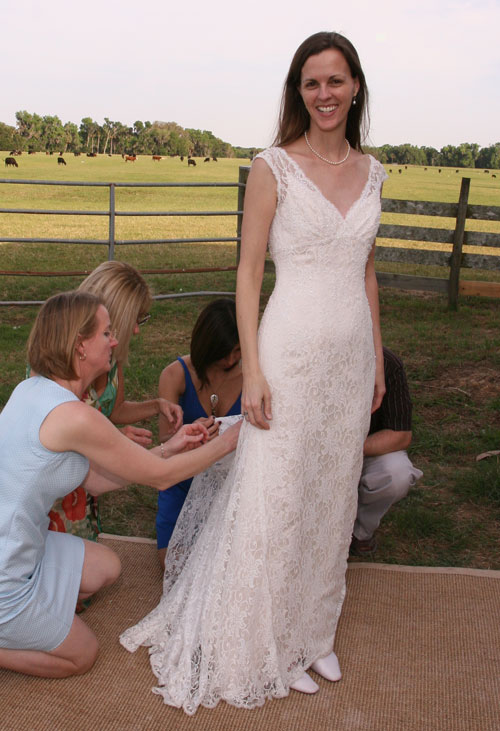 May God garb you and enfold you this day. Blessings!
P.S. Happy Feast of Saint Francis tomorrow! For a reflection in celebration of the day (October 4), visit Feast of St. Francis.