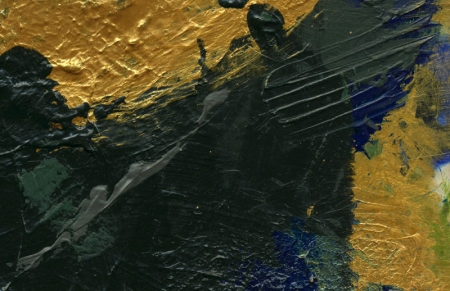 Tempted
© Jan L. Richardson
(click image to enlarge)
He was in the wilderness forty days, tempted by Satan . . .
—Mark 1.13a
From a lectionary reading for Lent 1: Mark 1.9-15
Reflection for Friday, February 24 (Day 3 of Lent)
Still dripping with the waters of the Jordan, Jesus is poised on the brink of his public ministry. Yet instead of turning toward the people whom, in the days to come, he will heal and teach and challenge and love, he first turns his face toward the wilderness. Toward solitude. Toward a place where, shed of everything that is familiar to him, he will wrestle and reckon with who he is and what he has come to do.
Satan comes to that forty-day place. Mark's version of the story omits the details of the temptations that Jesus' visitor offers. We could turn to Matthew and Luke to remind us of the specific ways that Satan seeks to entice Jesus. In their Gospels we could see how Jesus, shimmering with the clarity the wilderness can provide, turns away from each temptation that Satan brings, the temptations he has designed to target what he thinks are Jesus' soft spots. Or we could instead enter into the wilderness with Jesus, travel into that landscape to which Lent draws us, and let Mark's omission of the details serve as an invitation to us.
In the wilderness of Lent, what temptations might a visitor offer to you? What enticements would come to you, tailoring themselves—as temptations always do—especially to fit you, molding themselves with precision to the places where you are most vulnerable? What comes to distract you from your path? How might you enter this wilderness season as a space to see more clearly: who you are, what you have come to do?
[To use the "Tempted" image, please visit this page at janrichardsonimages.com. Your use of janrichardsonimages.com helps make the ministry of The Painted Prayerbook possible. Thank you!]