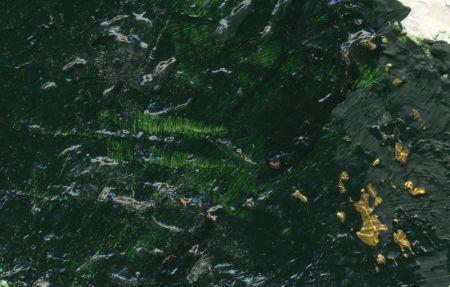 Image:
I Will Bless Her
© Jan Richardson
(click image to enlarge)
I will bless her, and she shall give rise to nations.
—Genesis 17.16
From a lectionary reading for Lent 2: Genesis 17.1-7, 15-16
Reflection for Tuesday, February 28 (Day 6 of Lent)
In my studio, a piece of work may lie dormant for a long, long time. A scrap of an idea, a shred of painted paper, a pattern: it shimmers for a moment, then says wait. Months pass, years, and suddenly it comes to life. It lands next to another scrap that causes me to see it differently, or a shift in my style enables me to know what to do with it now, or the sheer passage of time does its work, and now the piece is ready—or, finally, I am.
But to experience this awakening in one's body, to know old dreams blazing anew in one's own flesh, to feel the sensation of life making itself known within the wilderness of a womb that has ached for birthing for years, for decades, long beyond all reason… Who can fathom how life takes hold in the places we had stopped looking?
Hildegard of Bingen, that great medieval mystic, had a word for it: veriditas. The greening power of God.
This reflection is part of the series "Teach Me Your Paths: A Pilgrimage into Lent." If you're new to the series, welcome! You can visit the first post, Teach Me Your Paths: Entering Lent, to pick it up from the beginning.

[To use the image "I Will Bless Her," please visit this page at janrichardsonimages.com. Your use of janrichardsonimages.com helps make the ministry of The Painted Prayerbook possible. Thank you!]