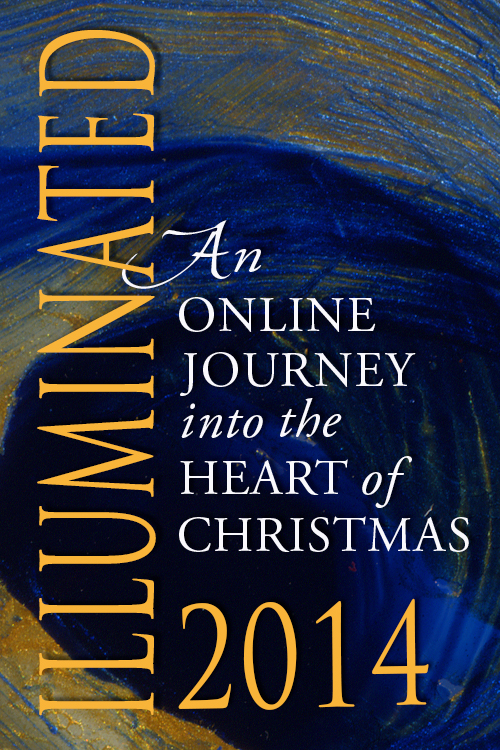 For the past six weeks, I have been on My Big Road Trip. It has been such a gift to take to the road, with little agenda or schedule, and receive the treasures of hospitality and solace I have found on the path between Florida and Canada. Now it is nearly time to return home. As I prepare to go, I'm so aware of traveling not only toward Orlando but also toward Advent, with great anticipation as I dream and imagine what the coming season might hold.
I am eager to begin the all-new online retreat that I'm offering for Advent, and I would love for you to join me! If you are hungry for a simple way to move deeply into this season, this retreat is for you. Some details are below, along with a link to our main info and registration page for the retreat.
ILLUMINATED 2014: An Online Journey into the Heart of Christmas
November 30-December 27
All new for 2014!

Are you hungry for an experience that invites you into Advent without stressing your schedule? This online retreat is not about adding one more thing to your holidays. It is about helping you find spaces for reflection that draw you deep into this season that shimmers with mystery and possibility. Intertwining reflection, art, music, and community, this online retreat provides a space of elegant simplicity and a distinctive opportunity to travel through Advent and Christmas in contemplation and conversation along the way.
This is an Advent retreat for people who don't have time for an Advent retreat (and for those who do!). You can easily enter into it in the way that works best for you, from anywhere you are. You don't have to show up at a particular time or place, and you're welcome to engage the retreat as much or as little as you wish. This is for you: a space to breathe deeply and to experience renewal that will make a difference in how you move through the season.
Individual, group, and congregational rates are available. You can also give the retreat as a gift! For retreat details, FAQs, and registration, visit Illuminated Advent Retreat.
Blessings to you as Advent draws near!