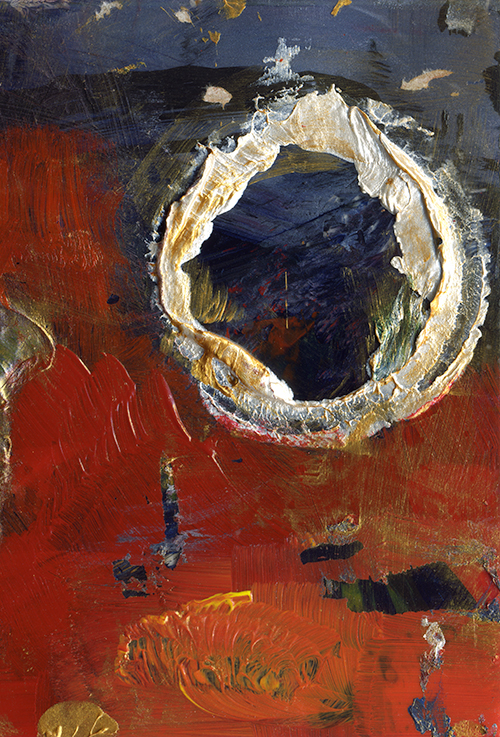 Image: End and Beginning  © Jan Richardson
Advent, almost! With the new season beginning this Sunday, it's time to head over to my blog The Advent Door, where I'll be offering a few reflections during the coming weeks. I've posted a new reflection there for this Sunday; you can find it here: Advent 1: Blessing When the World Is Ending.
I'm especially excited to be launching Illuminated 2014, our all-new online Advent retreat. The retreat begins this Sunday, and if you haven't already registered, I would love for you to join us! The Illuminated Retreat is a wonderful way to enter into Advent without stressing your schedule. There's info below, plus a couple more things I want to share with you as the season begins.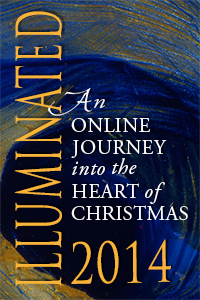 ILLUMINATED 2014
This online retreat is not about adding one more thing to your holidays. It is about helping you find spaces for reflection that draw you deep into this season that shimmers with mystery and possibility. Offering a space of elegant simplicity as you journey toward Christmas, the Illuminated Retreat fits easily into the rhythm of your days, anywhere you are. Begins November 30. For info and registration, visit ILLUMINATED 2014. Individual, group, & congregational rates available. A great gift for yourself and others!

ADVENT SPECIAL AT JAN RICHARDSON IMAGES
The Jan Richardson Images site makes my artwork available for use in worship, education, and other settings. You can download single images or sign up for an annual subscription, which gives you unlimited downloads for a year. During Advent and Christmas, we're offering a festive discount on annual subscriptions: for just $125, you can sign up for an artful year (regularly $165). The site offers many images for Advent, Christmas, and beyond. More info at Subscribe to Jan Richardson Images. You can also order any of the images as an art print!
INTERVIEW WITH FAITH & LEADERSHIP
I talked recently with Faith & Leadership about Advent, art, grief, and our call to be people who put the pieces together. Read the interview here in the Advent issue of their online magazine.
Blessings to you as Advent arrives!