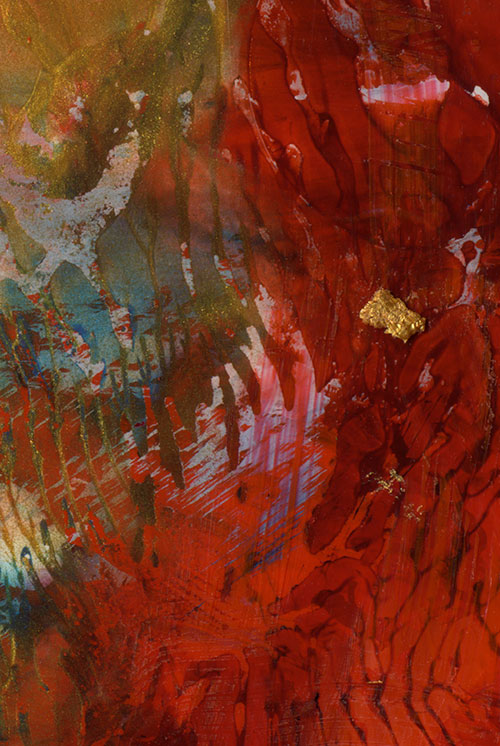 Image: When Friends Rejoice Both Far and Near © Jan Richardson
In this season, I often find myself thinking of friends in ministry who are on the move—who are leaving the communities they have known and are entering into new forms of ministry as they take new appointments, retire, or go on leave. I wrote a "sending blessing" for one of these friends, Dan Johnson, who recently retired after serving for 22 years as the senior pastor of my home church, Trinity United Methodist Church in Gainesville, Florida. The blessing was used to close Dan's final service there. The church also gave the image above to Dan as a print, beautifully framed with another blessing of mine called "In the Leaving."
As I continue to navigate my own thresholds in these days, I am so grateful for the chance to offer words and images for those who are finding and making new paths.
If you are in a threshold time, or know someone who is, this blessing is for you. Deep peace to you.
This Day We Say Grateful
A Sending Blessing
It is a strange thing
to be so bound
and so released
all in the same moment,
to feel the heart
open wide
and wider still
even as it turns
to take its leave.
On this day,
let us say
this is simply the way
love moves
in its ceaseless spiraling,
turning us toward
one another,
then sending us
into what waits for us
with arms open wide to us
in welcome
and in hope.
On this day,
in this place
where you have
poured yourself out,
where you have been
emptied
and filled
and emptied again,
may you be aware
more than ever
of what your heart
has opened to
here,
what it has tended
and welcomed
here,
where it has broken
in love and in grief,
where it has given
and received blessing
in the unfathomable mystery
that moves us,
undoes us,
and remakes us
finally
for joy.
This day
may you know
this joy
in full measure.
This day
may you know
this blessing
that gathers you in
and sends you forth
but will not
forget you.
O hear us
as this day
we say
grace;
this day
we say
grateful;
this day
we say
blessing;
this day
we release you
in God's keeping
and hold you
in gladness
and love.
—Jan Richardson
Using Jan's artwork…
To use the image "When Friends Rejoice Both Far and Near," please visit this page at janrichardsonimages.com. Your use of janrichardsonimages.com helps make the ministry of The Painted Prayerbook possible.
Using Jan's words…
For worship services and related settings, you are welcome to use Jan's blessings or other words from this blog without requesting permission. All that's needed is to acknowledge the source. Please include this info in a credit line: "© Jan Richardson. janrichardson.com." For other uses, visit Copyright Permissions.