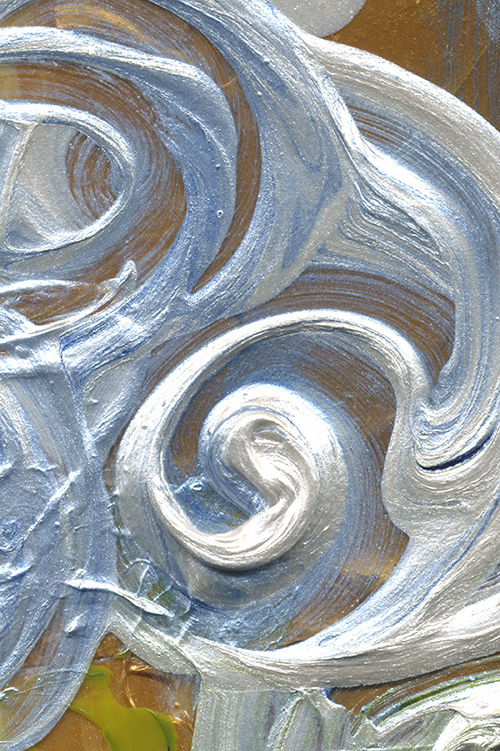 Image: That We May Breathe Together © Jan Richardson
Reading from the Gospels, Easter 2: John 20.19-31
He breathed on them and said to them,
"Receive the Holy Spirit."
—John 20:22
You can almost feel it resonating throughout Christendom: a deep, collective breath being taken. In the wake of the intensity of Lent, Holy Week, and Easter—intensity borne of the starkness of this stretch of the liturgical year as well as its immense, nearly overwhelming richness—we need a pause, a shared regathering of ourselves as we begin to absorb what it means that Christ is risen, that death has not had the final word.
Breath is precisely what Jesus comes to give his disciples, his friends who followed him to the end and hardly know what to do now, reeling as they are from all that has occurred and struggling to discern what happens next.
He breathed on them, John tells us in his gospel. More than any words could have done, this breath comes as gift, as grace: Christ's own breath that bears to them the Spirit that will enable them to keep living, to keep breathing, to proclaim the astonishing news of the risen Christ, and to be his body in this world.
Here on this side of Easter Sunday, what deep breath do you need to take? How will you open yourself to the risen Christ who comes to breathe the Spirit into you?
Blessing of Breathing
That the first breath
will come without fear.
That the second breath
will come without pain.
The third breath:
that it will come without despair.
And the fourth,
without anxiety.
That the fifth breath
will come with no bitterness.
That the sixth breath
will come for joy.
Breath seven:
that it will come for love.
May the eighth breath
come for freedom.
And the ninth,
for delight.
When the tenth breath comes,
may it be for us
to breathe together,
and the next,
and the next,
until our breathing
is as one,
until our breathing
is no more.
—Jan Richardson
from The Cure for Sorrow: A Book of Blessings for Times of Grief
For a previous reflection for Easter 2, click the image or title below.
Using Jan's artwork…
To use the image "That We May Breathe Together," please visit this page at janrichardsonimages.com. (This is also available as an art print. After clicking over to the image's page on the Jan Richardson Images site, just scroll down to the "Purchase as an Art Print" section.) Your use of janrichardsonimages.com helps make the ministry of The Painted Prayerbook possible. Thank you!
Using Jan's words…
For worship services and related settings, you are welcome to use Jan's blessings or other words from this blog without requesting permission. All that's needed is to acknowledge the source. Please include this info in a credit line: "© Jan Richardson. janrichardson.com." For other uses, visit Copyright Permissions.