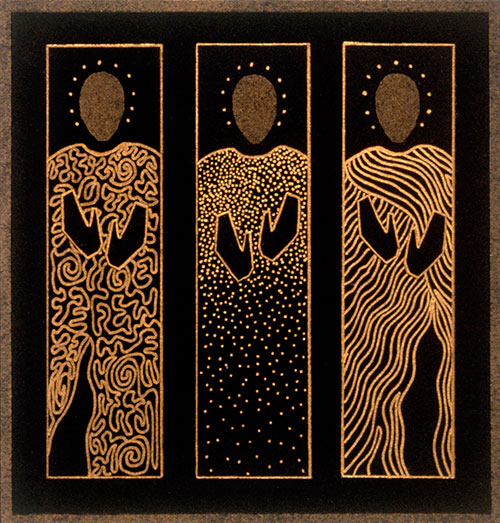 Image: The Wise Ones © Jan Richardson
Reading from the Gospels, Epiphany Day: Matthew 2.1-12
"We observed his star at its rising,
and have come to pay him homage."
—Matthew 2.2
As I write this, it is the night before Epiphany, one of my favorite days in the calendar. With releasing the Women's Christmas Retreat this week, I didn't get to write an Epiphany post earlier, but I don't want the feast day to pass without some words of celebration.
And speaking of celebration, tomorrow marks ten years since The Painted Prayerbook began! My first post here was on Epiphany Day in 2008. I had just finished my first season at The Advent Door, and I was so engaged by that journey of creating reflections and artwork in connection with Advent and Christmas that I created The Painted Prayerbook as a way to keep doing this throughout the year.
We have traveled a long way from that Epiphany to this one, across a terrain that can hardly be measured in years. But tonight, on the eve of the day when (in Western Christianity) we remember those who journeyed far to welcome the Christ child, it feels timely to tell you that I am tremendously grateful for the ways you have shared this path with me. Thank you so much for your companionship.
In celebration of Epiphany Day as well as a decade here, I have gathered up a collection of posts from across the past ten years at The Painted Prayerbook. In the links below, you'll find a constellation of my reflections, artwork, and blessings for Epiphany. You'll also find links to my posts for the Baptism of Jesus, which this year falls right next to Epiphany.
As we travel into this new season and new year, may Christ our Light accompany you with many graces for your path. Blessings and peace to you!
Feast of the Epiphany
Epiphany: For Those Who Have Far to Travel
Epiphany: This Brightness That You Bear
Epiphany: Blessing of the Magi
Epiphany: Where the Map Begins
Feast of the Epiphany: Blessing the House
Feast of the Epiphany: A Calendar of Kings
The Feast of the Epiphany: Magi and Mystery
Baptism of Jesus
This year's gospel reading for Epiphany 1/Baptism of Jesus is Mark 1.4-11. The list below includes reflections on the related readings from Matthew and Luke.
Baptism of Jesus: Beginning with Beloved
Baptism of Jesus: Washed
Baptism of Jesus: Following the Flow
Epiphany 1: Baptized and Beloved
Epiphany 1: Take Me to the River
Epiphany 1: Ceremony (with a Side of Cake)
A bonus Epiphany blessing: Among the remarkable collection of songs that Gary wrote for Christmas is a particular favorite called "Why Are We Following This Star?" It was one of the last songs he wrote (it's on his CD Songmaker's Christmas), and it beautifully evokes the mystery and wonder at the heart of the story we celebrate on Epiphany. To listen, click the play button in the audio player below. (For my email subscribers: if you don't see the player below, click here to go to The Painted Prayerbook, where you can view it in this post.)


Using Jan's artwork…
To use the image "The Wise Ones," please visit this page at janrichardsonimages.com. (This is also available as an art print. After clicking over to the image's page on the Jan Richardson Images site, just scroll down to the "Purchase as an Art Print" section.) Your use of janrichardsonimages.com helps make the ministry of The Painted Prayerbook possible. Thank you!
Using Jan's words…
For worship services and related settings, you are welcome to use Jan's blessings or other words from this blog without requesting permission. All that's needed is to acknowledge the source. Please include this info in a credit line: "© Jan Richardson. janrichardson.com." For other uses, visit Copyright Permissions.