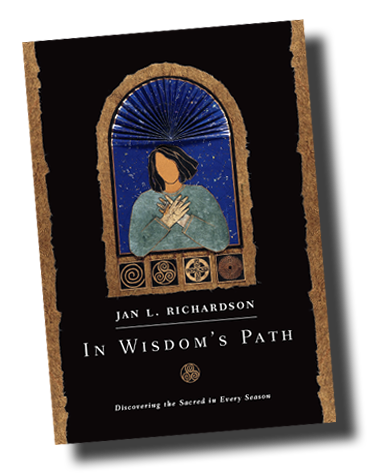 "Although some may find Ordinary Time a lackluster season, I've grown fond of it for the ways that it invites me to discover the sacred in the rhythms of unbroken dailiness. Waking, eating, reading the paper, working, playing, talking, doing laundry, doing dishes, doing errands, doing nothing at all: how is God with us in these times? Who is God with us in these times?" —From In Wisdom's Path: Discovering the Sacred in Every Season
As we approach the season of Ordinary Time, I am thrilled to share that my book In Wisdom's Path has just been released as an ebook! With original artwork, reflections, poetry, and prayers, In Wisdom's Path invites the reader to enter into the rhythms of the Christian year. From the contemplative "Cave of the Heart" in Advent to the "Daily Way" of Ordinary Time, the book serves as a companion through the unfolding seasons of the sacred year.
First published in 2000, the book is now available in a PDF format that brings the beautiful, full-color layout—designed by my splendid art director, Martha Clark-Plank—from the printed page to the screen. Read it on your computer or, better yet, on your iPad, Nook Color, or other portable reader, so you can always have it with you wherever you go!
As we release In Wisdom's Path as an ebook, I find myself thinking of the exquisite illuminated prayerbooks of the Middle Ages called Books of Hours (which helped inspire The Painted Prayerbook blog!). Designed to enable folks to pray the same rhythm of prayer as the monks, nuns, and priests who prayed the Liturgy of the Hours, these prayerbooks typically were small enough to carry in a pocket or purse. This medieval prayerbook became, as one writer has put it, a "portable cathedral." In pausing for a few moments and opening the book amidst whatever was going on, the owner entered into a sacred space—a thin place—for reflection and prayer.
In the spirit of these remarkable medieval prayerbooks, In Wisdom's Path incorporates 21st-century technology to offer you a sacred space in our own time. We are pleased to provide this book for you in a format that you can download and take with you anywhere to find moments of respite and renewal in the rhythm of your day.
For more info and to purchase the ebook, visit the Books page at janrichardson.com.
P.S. In other book news, In the Sanctuary of Women was recently named a winner in the 2011 National Indie Excellence Book Awards! More info over at the Sanctuary of Women blog.