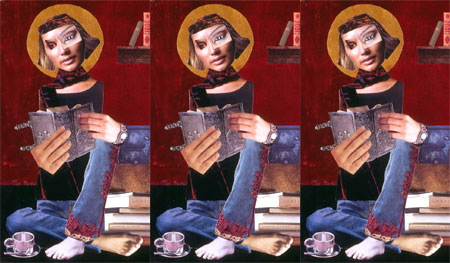 Some years ago, while browsing through the savory bookstore at the Washington National Cathedral, I happened upon Roger Wieck's book Painted Prayers: The Book of Hours in Medieval and Renaissance Art. I was vaguely familiar with Books of Hours, mostly from seeing individual images that had been lifted from them for Christmas cards or book illustrations, but this was my first real introduction to this kind of book. Called the "medieval bestseller," the Book of Hours was a popular prayerbook that enabled lay people to keep a similar rhythm of prayer as the monks, nuns, and priests who prayed the Liturgy of the Hours—the eight times of prayer that helped them remember the presence of God throughout the day and night.
In the days before the printing press, scribes and illuminators created these exquisite books by hand. They were often lavish creations that employed paints, inks, and dyes crafted from such materials as plants, flowers, and—yes—crushed bugs, as well as costly stones and minerals including lapis lazuli and gold. The contents of the Book of Hours varied. Virtually all of them contained a section of prayers called the Hours of the Virgin (with illuminations of the life of Mary, the mother of Jesus), the Hours of the Cross (with illuminations depicting the events around Jesus' crucifixion), and the Hours of the Holy Spirit (with an illumination of the descent of the Holy Spirit at Pentecost).
As a writer and artist who creates books for reflection and prayer, I was enchanted by Wieck's descriptions of these remarkable prayerbooks and by the wealth of color illustrations that he included. I began to cast about for more information on Books of Hours and, as I discovered the wondrous resources available, was soon thanking my lucky stars that I live in an age where color reproductions in print and on the web are so readily available.
One of the things that particularly struck me about these prayerbooks was how frequently the illuminated artwork ("illuminated" refers to the use of gold in an illustration) had an architectural context: in any given Book of Hours, most of the scenes are framed in a fashion that gives them the appearance of taking place in an arch, a doorway, a window. This kind of framing creates an entrance, a passageway that beckons the reader to cross into the scene being depicted. The passage, however, doesn't go just one way: this kind of depiction also challenges readers to allow the characters to cross through the frame into their own world, and to ponder how the stories embedded in Books of Hours—stories of biblical characters and saints—might unfold in the reader's own landscape.
This kind of artwork, with its two-way passage, underscores how the Book of Hours was a threshold book. Usually of a size that was small enough to carry in a pocket or purse, such a book's owner could open it anywhere and, in that place, open themselves to the presence of God. The book offered a thin place, a sacred, illuminated space where heaven and earth met.
Fittingly, Wieck calls these books "portable cathedrals."
My fascination with and research into Books of Hours eventually led me to other kinds of illuminated manuscripts that offer their own unique thresholds. Illuminated Psalters, Gospel books, Apocalypses, and other dazzling genres: they each have quickened my imagination and deepened my understanding of how a book can offer a threshold, a thin place, an invitation to go deeper into the mystery of God. For me, the bookly intertwining of words and images is particularly compelling and intriguing, both as a reader/viewer and as an artist/writer.
I share all this because this is the kind of stuff that's been on my mind as I've been redesigning this blog in recent days. I've pretty much been lying low, blog-wise, the past couple of weeks, in the wake of the intensity of doing the daily writing and art-making for The Advent Door (I think I've nearly recovered!). Doing the Advent blog stirred some ideas and imaginings for what this blog could become.
I loved reflecting on the season's lectionary readings in a way that intertwined image and words; I especially loved creating the abstract collages and seeing where they took me. One of the main things I envision doing with this newly redesigned/revamped/renamed blog is offering an artful reflection on a lectionary reading for each week, as I did during Advent. More broadly, this blog will be a place where I'll contemplate the intersections of art and writing and faith, and a few other things besides.
A blog is different from a printed or handcrafted book, but it shares some common ground in the ways that it can invite us into a reflective, contemplative, sacred space. My hope is that, in the spirit of the medieval and Renaissance books that offered places of worship, respite, and challenge on the journey, the artful pages of this blog will invite you to notice some thin places along your own path.
With thankfulness for the generations of artists and scribes whose skills far exceed mine but whose books continue to inspire me and invite me into places of wonder and worship, it seems fitting to call this blog The Painted Prayerbook. Thank you for opening its pages. I look forward to sharing the journey with you.
(Today's artwork is a [triplicated] detail from an original mixed-media piece titled At Her Prayers: Mary Magdalene with a Book of Hours; it's part of a series inspired by medieval Books of Hours. To see the series, visit The Hours of Mary Magdalene. For a related series, check out The Advent Hours.)