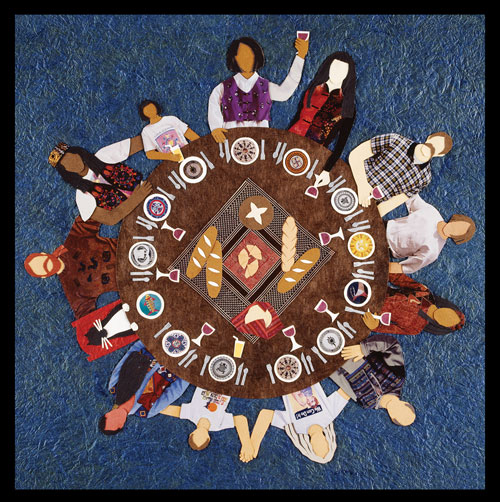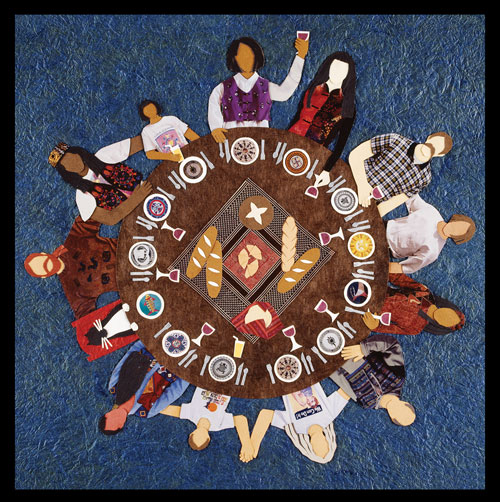 The Best Supper © Jan L. Richardson
This Sunday is World Communion Sunday. Established by the Presbyterian Church (USA) in 1936 and originally called World Wide Communion Sunday, this day beckons us to be mindful that when we gather at the table, we celebrate not only with those present but also with sisters and brothers around the world.
The artwork above is a piece called The Best Supper. Inspired by the image of Wisdom's Feast in Proverbs 9, this piece evokes the myriad meals that have fed me in body and soul. As I created this image, I was visited by memories of so many of the tables where I have found hospitality. Those memories are embedded among the pieces of this collage. Circling the table once again, I capture glimpses of those with whom I shared those sacred meals. I remember how we savored every scrap, how we lingered long after the last bite was consumed.
Table Blessing

To your table
you bid us come.
You have set the places,
you have poured the wine,
and there is always room,
you say,
for one more.

And so we come.
From the streets
and from the alleys
we come.

From the deserts
and from the hills
we come.

From the ravages of poverty
and from the palaces of privilege
we come.

Running,
limping,
carried,
we come.

We are bloodied with our wars,
we are wearied with our wounds,
we carry our dead within us,
and we reckon with their ghosts.

We hold the seeds of healing,
we dream of a new creation,
we know the things
that make for peace,
and we struggle to give them wings.

And yet, to your table
we come.
Hungering for your bread,
we come;
thirsting for your wine,
we come;
singing your song
in every language,
speaking your name
in every tongue,
in conflict and in communion,
in discord and in desire,
we come,
O God of Wisdom,
we come
Prayer © Jan L. Richardson from In Wisdom's Path: Discovering the Sacred in Every Season.

Update: Thanks to everyone who has requested permission to use this blessing or "The Best Supper" artwork. For worship services and related settings, you are welcome to use the blessing without requesting permission; all that's needed is to include a line with this info:
© Jan L. Richardson. janrichardson.com
To use "The Best Supper" image, please visit this page at janrichardsonimages.com. Your use of janrichardsonimages.com helps make the ministry of The Painted Prayerbook possible. Thank you!
Prints of The Best Supper and other images are available by visiting the Art Prints page at janrichardson.com. We have greeting cards, too!