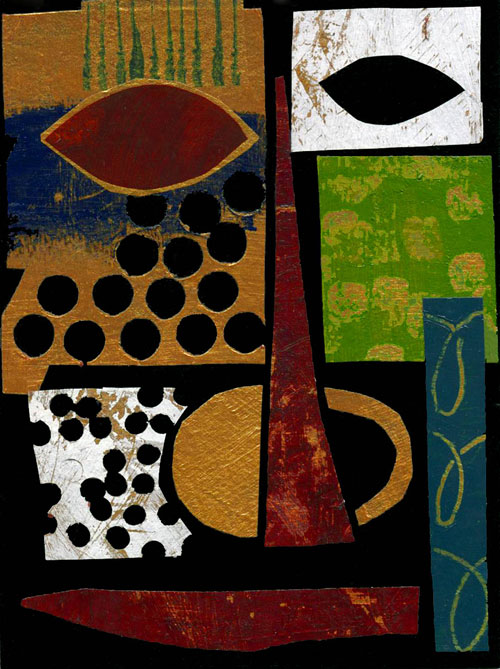 Christ Among the Scraps © Jan L. Richardson
Reading from the Gospels, Christ the King/Reign of Christ Sunday, Year A: Matthew 25.31-46
So I spent last night at the drafting table, pushing pieces of painted papers around. I had made a few sketches as I reflected on this week's gospel lection. I sat down at the drafting table with those sketches in hand. But then a scrap caught my eye, and another scrap, and another. Owing to an intense travel schedule and natural tendencies, I probably have not cleared off my drafting table since before Ordinary Time began about six months ago. So each week, with every collage, scraps have lingered, gathering and multiplying in a brilliance of colors.
The sketches now abandoned, I played with the painted pieces, picking up, setting aside. I chose scraps that I had tried to use in earlier collages. I chose pieces from which I had previously cut shapes. I chose papers that I'd experimented with as I tried different colors or marking techniques. I chose from the leavings, the left behind. I dug my hands deep into the pile, hitting the bottom of the stack, turning over layers that hadn't seen the light of day in months. Sorting. Sifting. Choosing.
I thought about this passage in which Jesus speaks of sorting and of sifting, how he describes a day when he will confront us with the choosing we have done: what we embraced, what we rejected. What we failed even to notice. He speaks of those who recognize him and minister to him, and those who don't. This text from Matthew lies at the deepest core of our call as followers of Christ. And it is, perhaps, the one that most fiercely challenges us, that stretches us the farthest.
When was it that we saw you?
I turn the scraps over in my hands. Sorting, choosing. Finding the pattern. I think of how my deepest regrets—what few I allow myself—are most often attached to occasions when I didn't see. Didn't know how to see, didn't yet have the eyes for seeing. The realization of it—the dawning knowledge of where my vision was lacking—is itself a kind of punishment. But an invitation, too. To learn to look more closely. To take in what I have rushed past.
When was it that we saw you?
A face begins to take shape from the scraps. My initial sketches had to do with doors, entryways—places of hospitality and welcome. But I look into these eyes and wonder what passage they offer. One eye, the crimson, was left over from the collage that I did for my reflection on John 9.1-41 during Lent. Jesus spat on the ground, John tells us, and made mud, and placed it on a man's unseeing eyes. He told the man to go wash in the pool of Siloam, whose name means Sent. The sent man saw. And he recognized the one who sent him. Jesus tells him that he has come so that those who do not see may see.
When was it that we saw you?
I begin to glue the pieces that I have chosen from the scraps. I find myself thinking of a talk I recently heard in which the speaker seemed to think that evangelism is something that involves our taking Jesus to places he hasn't already been. And I pray for eyes to see the ways that Christ already inhabits every place. How there is no place it hasn't already occurred to him to visit, no space in which he isn't already working to make a home, no person through whom he might not startle me with the blazing of his presence.
When was it that we saw you?
By his words in Matthew 25, Jesus assures us that our greatest sin lies not in having the wrong theology or refusing to believe as others would have us believe or failing to take him to a place he has never gone. Our sin lies in neglecting to recognize and respond to him where he already is.
Jesus gets awfully specific in telling us where we can find him. Each of the habitations he lists here is marked by lack: lack of food, lack of water, lack of hospitality, lack of clothing, lack of health, lack of freedom. Christ chooses these places, inhabits these spaces, waits for us to show up. Waits, too, for us to recognize those places in ourselves. He knows that if we haven't recognized the poverty within our own souls, and how he dwells there, it's hard to see him and serve him in others without being patronizing.
When was it that we saw you?
This Sunday is the last in Ordinary Time. Christ the King Sunday, the liturgical calendar tells us. As we prepare to cross the threshold into Advent, I wonder what Christ, this sovereign who came in such a ragged, radical guise, has in store for the season to come. How he'll show up. Where he'll invite me to see him.
I rinse my gluey brushes, clean off my palette, call it a night. I gaze at this unexpected face that gazes back at me. Christ among the Scraps, I'll call it. Making his home.
When was it that we saw you?
That's question enough for this week. Blessings.
[To use the "Christ Among the Scraps" image, please visit this page at janrichardsonimages.com. Your use of janrichardsonimages.com helps make the ministry of The Painted Prayerbook possible. Thank you!]