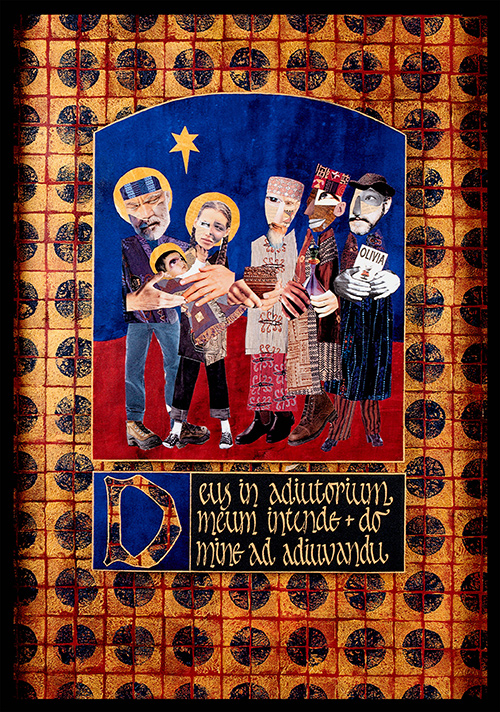 Image: Adoration of the Magi © Jan Richardson
Reading from the Gospels, Epiphany: Matthew 2.1-12
A blessed Epiphany to you! During the season that has brought us to this feast day, one of the CDs I've been listening to is Wolcum Yule: Celtic and British Songs and Carols by the wondrous vocal group Anonymous 4. My favorite piece on this CD is "A Calendar of Kings," which began as a poem by George Mackay Brown, the prolific poet of Orkney (in northern Scotland) who died a dozen years ago. The poem's musical setting was composed by Sir Peter Maxwell Davies, whose composition honors and evokes the haunting enchantment of Mackay Brown's words. In the liner notes, Maxwell Davies comments, "From the imagery, with ice, snowdrops, and daffodils, it is clear that the journey lasts a season, and that the poet has transplanted the setting from the Middle East to his native land and seascape in Orkney, bringing the nativity home in a very vivid way."
Here's the text of the poem.
A Calendar of Kings
They endured a season
Of ice and silver swans.
Delicately the horses
Grazed among the snowdrops.
They traded for fish, wind
Fell upon crested waters.
Along their track
Daffodils lit a thousand tapers.
They slept among dews.
A dawn lark broke their dream.
For them, at solstice
The chalice of the sun spilled over.
The star was lost.
They rode between burnished hills.
A fiddle at a fair
Compelled the feet of harvesters.
A glim on their darkling road.
The star! It was their star.
In a sea village
Children brought apples to the horses.
They lit fires
By the carved stones of the dead.
A midwinter inn.
Here they unload their treasures.
© George Mackay Brown
from Following a Lark
The image above is from my series The Advent Hours. I wrote this to accompany the artwork:
Pondering the patterns of the heavens, the wise ones found one star, one light that called to them, compelled them, set them on the road. And they came, arriving upon the star-drenched landscape where dwelled the hope of the world in the garb of a child. They stretched out their hands to him, the brilliance of the sky now shimmering in their exquisite gifts: gold, frankincense, myrrh.
I'm taking a bit of time off this week but am aiming to have a reflection on Epiphany 1/Baptism of Jesus posted within the next couple of days. In the meantime, I welcome you to visit last year's reflection on Matthew's version of Jesus' baptism, Epiphany 1: Ceremony (With a Side of Cake).
I'll send out the Epiphany edition of my e-newsletter this afternoon, so if you'd like to receive it and haven't already subscribed, I invite you to join my mailing list here.
Merry Epiphany! For this day, for this year, may you have light for the path and, as George Mackay Brown writes of the kings, a place to unload your treasures.
[To use the image "Adoration of the Magi," please visit this page at janrichardsonimages.com. Your use of janrichardsonimages.com helps make the ministry of The Painted Prayerbook possible. Thank you!]