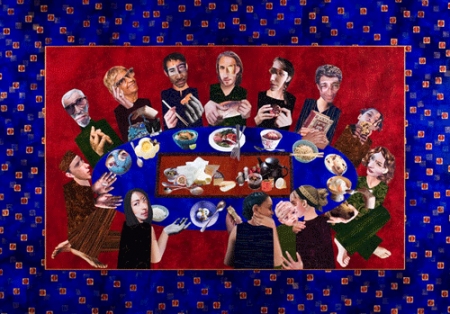 The Welcome Table © Jan L. Richardson
Reading from the Gospels, Year B, Proper 13/Ordinary 18/Pentecost +9: John 6.24-35
Following up on last week's reading, the gospel lection for this Sunday offers us another image of provision and plenitude that come through Christ. Last week we saw him turn a couple of fish and five loaves of bread into a feast for the masses; this week he talks about his own being as bread: bread of God, bread of heaven, bread of life.
In the wake of last week's stunning feeding, John tells us that the crowd dogs Jesus' trail, with the air of people looking for seconds. When they catch up with him, Jesus tells them they are looking for him "not because you saw signs, but because you ate your fill of the loaves. Do not work for the food that perishes," he cautions them, "but for the food that endures for eternal life, which the Son of Man will give you."
Jesus is clear in calling them to discern the difference between what fills the belly and what fills the soul. At the same time, he well understands the ways that the hungers of the body and the hungers of the soul intertwine, and how both are at play when it comes to food. This is, after all, the man who so loved to share a meal—with all sorts of companions—that his critics called him "a glutton and a drunkard, a friend of tax collectors and sinners" (Luke 7.34). When he wants to convey the essence of who he really is, in word and in action, it is to food, to the gifts of the earth, that Jesus turns. Wheat. Bread. Wine. In his hands, food is more than food; it is an enduring symbol of, and gift from, the one who offers his very being to meet our deepest hunger and our keenest thirst. Yet it is food nonetheless.
The famed food writer M.F.K. Fisher offers a passage that captures the ways that hungers of body and soul, and the feeding of them, are bound together. In the introduction to her book The Gastronomical Me, first published in 1943, she writes,
People ask me: Why do you write about food, and eating and drinking? Why don't you write about the struggle for power and security, and about love, the way others do?

They ask it accusingly, as if I were somehow gross, unfaithful to the honor of my craft.

The easiest answer is to say that, like most other humans, I am hungry. But there is more than that. It seems to me that our three basic needs, for food and security and love, are so mixed and mingled and entwined that we cannot straightly think of one without the others. So it happens that when I write of hunger, I am really writing about love and the hunger for it, and warmth and the love of it and the hunger for it…and then the warmth and richness and fine reality of hunger satisfied…and it is all one.

I tell about myself, and how I ate bread on a lasting hillside, or drank red wine in a room now blown to bits, and it happens without my willing it that I am telling too about the people with me then, and their other deeper needs for love and happiness.

There is food in the bowl, and more often than not, because of what honesty I have, there is nourishment in the heart, to feed the wilder, more insistent hungers. We must eat. If, in the face of that dread fact, we can find other nourishment and tolerance and compassion for it, we'll be no less full of human dignity.

There is a communion of more than our bodies when bread is broken and wine drunk. And that is my answer, when people ask me: Why do you write about hunger, and not wars or love?
I find myself thinking, too, of Simone Weil, who wrote, in her book Waiting for God, "The danger is not lest the soul should doubt whether there is any bread, but lest, by a lie, it should persuade itself that it is not hungry."
What are you hungry for these days? What does your relationship with food have to say about your relationship with God—and vice versa? Are there meals that hold memories of connection and communion? Do you have habits of eating, or not eating, that reveal a soul-hunger that needs God's healing?
May the Bread of Life, who knew the pleasures of the table, feed you well in these days. Blessings.
P.S. Deep thanks to those offering prayers and blessings as I work to finish writing my book. Know that I am tremendously grateful for every good thought and prayer that comes my way; they are manna indeed on this intense journey!
[To use this image, please visit this page at janrichardsonimages.com. For a print, visit Color Prints at janrichardson.com. Thanks!]