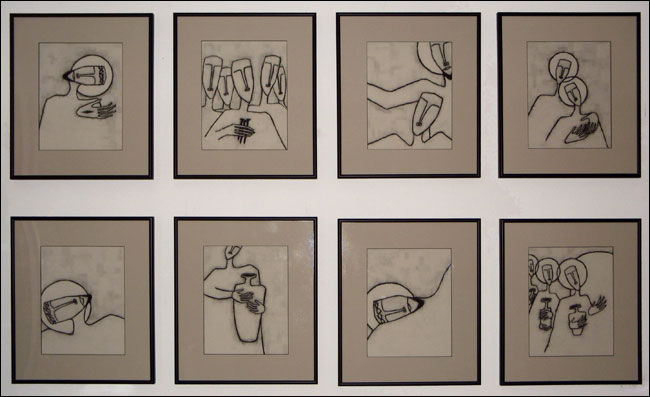 With Ash Wednesday just around the corner, it seems a good time to do a spot of housekeeping here at The Painted Prayerbook. I have a few artful offerings for Lent that I want to let you know about, along with some related news.
ORIGINAL ART: The artwork above is a series of charcoals that I did a few years ago for Peter Storey's book Listening at Golgotha. Peter is a former bishop of the Methodist Church of Southern Africa and served as the chaplain to Nelson Mandela during his years in prison. In this book, Peter offers a powerful series of reflections on the Seven Last Words of Jesus. The original artwork is available for sale (as an intact series), beautifully matted and framed. Great for a church, chapel, or other space for devotion/worship, especially during Lent and Holy Week. For more information, visit The Seven Last Words Series. [Update: I am delighted to share that the series is now permanently installed at Duke Divinity School.]
ART PRINTS: All of the images from The Seven Last Words Series are available as prints; check out the Art Prints page on my website. Prints of The Lenten Series (illustrations from my book Garden of Hollows) are also available on my site, along with plenty of other images. You can also now order prints at janrichardsonimages.com (including prints of all the artwork on this blog); go to any image and click "Prints & Products."
A LITERARY LENT: Published through my small press, Garden of Hollows: Entering the Mysteries of Lent & Easter offers artwork and reflections on the sacred texts and themes of the coming season. You can read excerpts and order at Wanton Gospeller Press.
IMAGES ONLINE: The site Jan Richardson Images makes all my artwork easily accessible for use in worship, education, and related settings. You'll find lots of images for Lent and Easter as well as the rest of the year.
eNEWSLETTER: I send out an e-newsletter every month or so. It includes a seasonal reflection, artwork, information about current offerings and upcoming events, and whatever else strikes my creative fancy. I would be delighted to include you in my mailing list if you haven't already subscribed. You can sign up here.
COMING ATTRACTIONS: I'm looking forward to heading to Virginia to offer some events next week (if the weather is willing!) and will head to Washington State and Nevada later this year. If you're in the vicinity, please come join us! More info at Upcoming Events.
GRATITUDE: Deep thanks to you for visiting The Painted Prayerbook and for the sustenance and companionship you provide along the way. Your comments, emails, prayers, and presence are manna on my path. Know that you are present in my prayers, and I wish you a most blessed Lenten season.