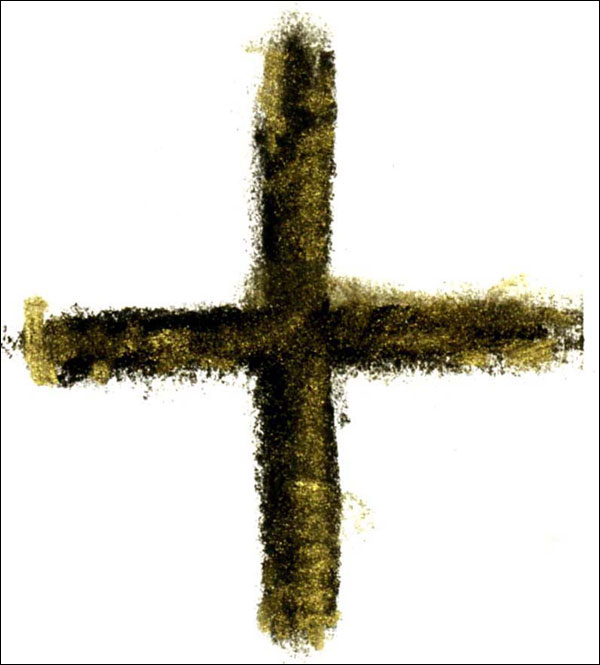 Image: Ash Wednesday © Jan Richardson
Readings for Ash Wednesday: Joel 2:1-2, 12-17; Psalm 51:1-17;
2 Corinthians 5:20b – 6:10; Matthew 6:1-6, 16-21
As we approach Ash Wednesday, I've found myself thinking about Sojourner Truth.
Born into slavery in New York around 1797 with the name Isabella Baumfree, the girl who would become Sojourner had ten or twelve siblings whom she only knew from stories told by her mother, "Mau-mau Bett." Their slaveholder had sold away all the children except for Isabella and her younger brother Peter. In 1828, after being sold herself and later escaping, Isabella was emancipated and moved to New York City.
After living there for more than a decade, Isabella experienced a call from the Spirit to travel and lecture. She desired a new name that would reflect her new vocation. Saying that she had left everything behind, and wasn't going to keep anything of Egypt on her, she went to the Lord and asked him for a new name. "And the Lord gave me Sojourner," she said, "because I was to travel up and down the land, showing the people their sins, and being a sign unto them. Afterward I told the Lord I wanted another name, because everybody else had two names; and the Lord gave me Truth, because I was to declare truth to the people." Sojourner Truth became a fiery preacher, orator, and abolitionist.
One day, while preparing for a speech at the town-house in Angola, Indiana, she heard that someone had threatened to burn down the building if she spoke there. "Then I will speak upon the ashes," Sojourner replied.
They are a curious thing, ashes; they are terrible and remarkable by turns.
Ashes come as a reminder of the ways that humans across history have been horrible to one another, of how we have, with an awful finesse, reduced to literal ashes one another's homes, buildings, cities, histories, and very bodies.
Ashes can also be a thing of wonder. This day in the Christian year, this day of ashes, tells us that ashes—dust, dirt, earth—are the stuff from which we have been made, and to which we will return. This day, and the season it heralds, seeks to ground us, to make us mindful of the humus, the humility, the earthiness of which our bones and flesh are made. And yet, in the midst of this, the season calls us to open ourselves to the God who brings life from ashes, who works wonders amid destruction, who cries out and grieves in the presence of devastation and terror, and who breathes God's own spirit into the rubble. It is this God who breathes into us, calling our awful and glorious ash-strewn selves to speak words of life and freedom and healing amid violence and pain. Like Sojourner. Like Jesus.
As servants of God we have commended ourselves in every way, Paul writes in a passage the lectionary gives us for this day:
through great endurance, in afflictions, hardships, calamities,
beatings, imprisonments, riots, labors, sleepless nights, hunger;
and I can hear Sojourner, who knew such conditions so well, calling out in answer,
Then I will speak upon the ashes.
by purity, Paul writes, knowledge, patience, kindness, holiness of spirit,
genuine love, truthful speech, and the power of God;
and I can imagine Sojourner, speaker of Truth, crying out in response,
Then I will speak upon the ashes.
with the weapons of righteousness for the right hand and for the left;
in honor and dishonor, in ill repute and good repute.
I will speak upon the ashes.
We are treated as impostors, and yet are true;
as unknown, and yet are well known;
I will speak
as dying, and see—we are alive;
as punished, and yet not killed;
as sorrowful, yet always rejoicing;
upon the ashes.
as poor, yet making many rich;
as having nothing, and yet possessing everything.
Then I will speak upon the ashes.
On this day of ashes, we do well to remember that we, who are made of such stuff, are capable—every one of us—of inflicting pain and destruction. Thinking we are above it makes us all the more prone to it. Yet this day reminds us, too, that God knows what to do with ashes, knows what can come from them. As we cross into the season of Lent, how will we give our ashy selves to the God who longs to breathe new life into us and into the world? Where is God calling us to be a presence of healing amid devastation? How is God challenging us to stand against the forces that deny freedom, the forces that still, more than a century after Sojourner, seek the silence and captivity of others? What ashes is God calling us to speak upon?
In this season, what will we say?
May God work wonders amid our ashes in these coming Lenten days. Blessings.
[For earlier reflections on Ash Wednesday, please see The Artful Ashes and Ash Wednesday, Almost. To use the "Ash Wednesday" image, please visit this page at janrichardsonimages.com. Your use of janrichardsonimages.com helps make the ministry of The Painted Prayerbook possible. Thank you!]
Resources for the season: Looking toward Lent