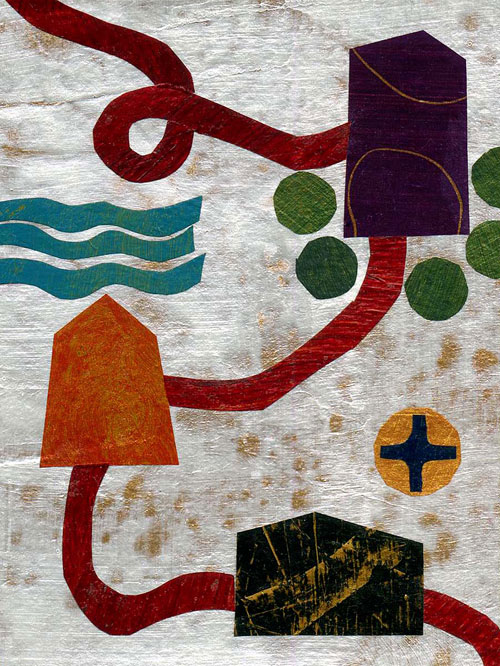 Mapping the Mysteries © Jan L. Richardson
Year C, Proper 9/Ordinary 14/ Pentecost + 6 (July 4): Luke 10.1-11, 16-20

Ah, how I have been traveling on the Road of Good Intentions these past weeks. I've been hopeful of blogging more regularly here at The Painted Prayerbook now that I am post-wedding, but amidst settling into our new home, entering into the blessed rhythms of marriage, taking care of details related to my new book's publication this fall, and preparing for summer travels (not to mention doing lovely things like sleeping and taking walks and enjoying summer reading), I haven't been able to get much further than looking longingly at the lectionary readings and thinking about what I would write and collage if I could just somehow manage it.
Know that I'll show up here when I can, and even when I'm not adding new reflections and artwork, I'm contemplating the texts with you and praying for you as you ponder your way into and through the words that the lectionary offers to us from week to week. For this week, I invite you to stop by an earlier reflection, one that I wrote for Matthew's version of the story that the lectionary gives us from Luke for next Sunday. You can visit it here: Mapping the Mysteries. (Does recycling blog material count as going green?)
Speaking of mapping and mysteries . . . this is going to be the theme of one of the events I'm greatly looking forward to leading this summer. During the week of August 8-13, I'll be at Zephyr Point Conference Center in Lake Tahoe, Nevada, as the main speaker of the Companions on the Inner Way retreat. Our theme for the week will be Mapping the Mysteries of Faith. For more info on the retreat, please visit Upcoming Events.
On that page you can also find info about another event I'm anticipating with much delight: I'll be returning to the wondrous Grünewald Guild in Washington State, where I teach each summer; this year I'll serve as the keynote speaker during their first-ever Liturgical Arts Week during July 26-August 1. Each of these events will offer a welcoming space for contemplation, creative exploration, and conversation with an engaging community amidst a beautiful place. I hope you'll think about joining us for either week . . . or both!
And, as always, I have lots of goodies available at janrichardson.com in the form of art prints, greeting cards, and books. I invite you to stop by and have a browse anytime . . . always open, 24/7! And, no matter where I may be, images are always available for your use in worship, education, and other settings at Jan Richardson Images.
Many blessings to you as you navigate the mysteries of your unfolding path.