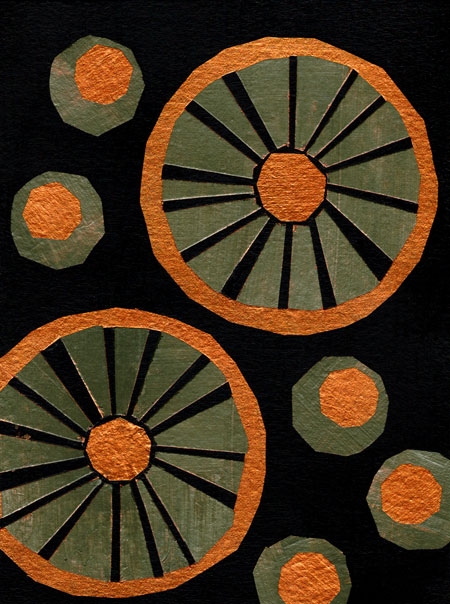 Who Gave You Your Eyes? © Jan L. Richardson
Reading from the Gospels, Epiphany 2, Year A: John 1.29-42
Who gave you your eyes? asks J. Ruth Gendler in her book Notes on the Need for Beauty. "Inside this question," she goes on to write, "are several other questions. Who taught you to see? Who taught you what to see? What not to see? What are you paying attention to? What is beautiful to you?"
I've been spending time seeing, lately. After last year's extraordinary outpouring of energy, I have devoted some space, in the opening days of this new year, to filling my creative well. Resting and restoring. Absorbing. Looking. Giving my attention to what feeds my eyes, grabs my imagination, renews my vision.
This involves books, of course. One of the books I've been keeping company with is Leslie Geddes-Brown's marvelous book about Angie Lewin, an English printmaker whose work first crossed my path in a Seattle bookstore several years ago. I left the shop with a fistful of her cards, just because they made my soul and my eyeballs happy. The pages of Angie Lewin: Plants and Places, just recently published (and a post-Christmas treat to myself), brim with Lewin's remarkable wood engravings, linocuts, lithographs, and screenprints, along with her working sketches as well as photographs of some of the places that inspire her art. The book, in fact, is thematically divided into sections that take their names from these places: woodland and hedgerow, river and loch, meadow and garden.
In images and in Lewin's own words, the book reveals some of the sources of her seeing. She tells of landscapes she has sought or stumbled upon, along with artists whose work has helped her develop her distinctive vision. The book closes with a wonderful, offbeat bibliography (with photos) of books that are among Lewin's favorites; she comments, "Many of the artists who inspire me have also illustrated books and designed textiles and ceramics, so this list is an eclectic mix of 1940s natural history books and obscure titles collected for the artwork regardless of their subject."
The book, which came into my hands at about the same time as Ruth Gendler's book, reads something like an extended meditation on the question that Gendler poses: Who gave you your eyes? Together these two books have prompted me to pay closer attention to how I see, what I see, where I look, what inspires me, how my seeing might need to stretch in new directions.
And into the midst of this strolls Jesus in this Sunday's gospel lection, where we meet two of John the Baptist's disciples who, after hearing John speak of Jesus as the lamb of God, begin to follow after Jesus. "What are you looking for?" Jesus asks them. They answer his question with a question: "Rabbi, where are you staying?" Jesus responds to them, "Come and see."
Come and see. In all of the gospels, this is one of the most profound and challenging invitations Jesus will extend. Jesus is not beckoning them to a superficial seeing; what he offers them will demand more than a glance or a cursory look. The Greek word translated here as see comes from horao, which can be translated as perceive, understand, recognize, experience. Jesus is calling these disciples to the kind of seeing that opens a door, a seeing that draws us into a journey that will change us in ways we cannot know or imagine at the outset.
During Advent I wrote about getting stuck in my studio ("The Luminous Night"), and how getting stuck always seems to mean that a shift is brewing in my artwork. I'm in the early days yet of that shift, not clear what it means, but am feeling more excited than panicked about it. I know the shift is an invitation to a deeper seeing, a call both to extend my range of vision outward—to look beyond my usual lines of sight—as well as inward, to tunnel into layers of soul and guts and heart and see what—and who—is there. Lewin and Gendler's books are good companions in these days; they not only feed my eyes and imagination but have also helped propel me into the studio, where I've begun to experiment with new colors and follow some different lines. Who knows where it will lead? The mystery and the risk are the price, and the gift, of learning to see—of being given our eyes, again and again and again.
What are you looking for? Jesus asks. Like that duo of disciples, I want to know where he is staying, where he is dwelling; I want to find where Christ makes his home. Come and see, he says. And in my studio, in my home, in my marriage, in my friendships, he keeps showing up; in the communities I'm part of, in the things I wrestle with, in the strangers who cross my path, in the questions and dreams and doorways that open onto places I could never have predicted, Christ lies in wait. Inviting me, beckoning me, challenging me to open my eyes wide, and wider still.
What are you looking for in these days?
Blessing
May God,
who comes to us
in the things of this world,
bless your eyes
and be in your seeing.
May Christ,
who looks upon you
with deepest love,
bless your eyes
and widen your gaze.
May the Spirit,
who perceives what is
and what may yet be,
bless your eyes
and sharpen your vision.
May the Sacred Three
bless your eyes
and cause you to see.
[The blessing is from In the Sanctuary of Women © Jan L. Richardson. For a previous reflection on this lectionary reading, visit Epiphany 2: Come and See.]
[To use the "Who Gave You Your Eyes?" image, please visit this page at janrichardsonimages.com. Your use of janrichardsonimages.com helps make the ministry of The Painted Prayerbook possible. Thank you!]