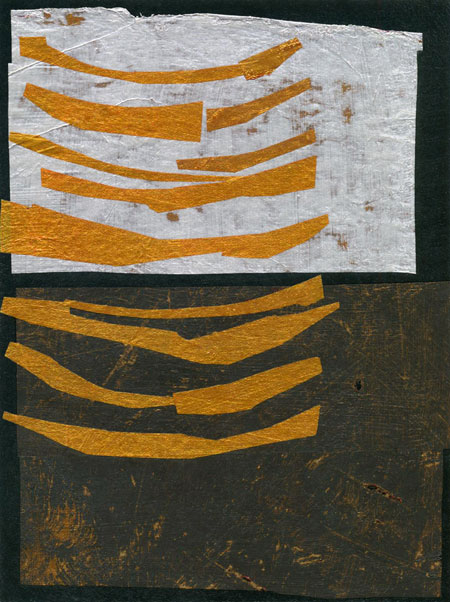 Ascension II © Jan L. Richardson
Reading from the Gospels, Ascension Day: Luke 24.44-53
Reading from the Gospels, Easter 7, Year A: John 17.1-11
Throughout this Easter season we have seen how the gospel lections have emphasized the theme of knowing: knowing the risen Christ, knowing what he has done for us and to us, knowing what he desires of us and calls us to do, knowing what he is preparing for us—and preparing us for. The fact that most of the gospel readings for the Easter season take place at a table underscores the intimacy that comes in knowing—in knowing Christ, in knowing God, in knowing one another.
This theme of knowing reaches its stunning apex in the gospel texts for this week. The reading from John's Gospel draws us once again to the table where Jesus has lingered with his friends on the night before his death. He finishes their final feast by praying for his disciples. In his prayer, Jesus is knowing all over the place: "And this is eternal life," he says, "that they may know you, the only true God, and Jesus Christ whom you have sent….I have made your name known to those whom you gave me from the world….Now they know that everything you have given me is from you; for the words that you gave to me I have given to them, and they have received them and know in truth that I came from you." Then Jesus, who knows these friends so well, releases them into the world and into the care and protection of God, who has known them from the beginning.
In the reading from Luke for Ascension Day, we see the risen Christ appearing one last time to his disciples. He opens their minds, as Luke tells us, "to understand the scriptures," and he impresses upon them that what was written about him, they have seen with their own eyes. Jesus then takes them to Bethany: this place so familiar and dear to Jesus, the place where Mary and Martha and Lazarus lived—his close friends who knew and were known by Jesus. And from this place Jesus leaves, blessing his beloved companions as he ascends.
As we spiral back around these stories this year, what still takes hold of me is this: how Jesus prays for and blesses his friends as he leaves them. How the leaving is part of the blessing. As if the blessing can happen no other way than by his departure, by his letting go of the ones whom he has loved—these ones whom he will never cease to love but must release into their own lives, so that they may enter into the blessing and enact it on this earth.
This week provides a good occasion to remember that the English word bless comes from the Old English word blod—blood, referring to the use of blood in ritual acts of consecration. The blessing that Jesus gives as he goes is one that will infuse the community with his love, his grace, his lifeblood. He gives a blessing that will run in the veins of those he has called to be his body; a blessing that will beat in the hearts of those whom he is sending into the world.
As we prepare to leave the season of Easter and cross into Ordinary Time, what blessing do you need? What word or gesture of grace and love do you need to infuse you and sustain you to be a blessing in this world? Is there a blessing that might depend on your letting go, on releasing something—or seeking to be released from something—so that there will be a space for the blessing to enter?
Blessing the Distance
For Ascension Day
It is a mystery to me
how as the distance
between us grows,
the larger this blessing
becomes,
as if the shape of it
depends on absence,
as if it finds its form
not by what
it can cling to
but by the space
that arcs
between us.
As this blessing
makes its way,
first it will cease
to measure itself
by time.
Then it will release
how attached it has become
to this place
where we have lived,
where we have learned
to know one another
in proximity and
presence.
Next this blessing
will abandon
the patterns
in which it moved,
the habits that helped it
recognize itself,
the familiar pathways
it traced.
Finally this blessing
will touch its fingers
to your brow,
your eyes,
your mouth;
it will hold
your beloved face
in both its hands,
and then
it will let you go;
it will loose you
into your life;
it will leave
each hindering thing
until all that breathes
between us
is blessing
and all that beats
between us
is grace.
—Jan Richardson
from Circle of Grace: A Book of Blessings for the Seasons
P.S. For a previous reflection on this passage, click the image or title below: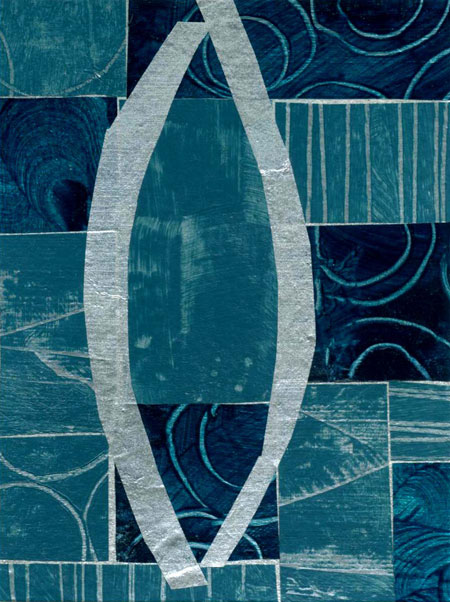 Ascension/Easter 7: A Blessing at Bethany
Using Jan's artwork…
To use the "Ascension II" image, please visit this page at janrichardsonimages.com. (This is also available as an art print. After clicking over to the image's page on the Jan Richardson Images site, just scroll down to the "Purchase as an Art Print" section.) Your use of janrichardsonimages.com helps make the ministry of The Painted Prayerbook possible. Thank you!
Using Jan's words…
For worship services and related settings, you are welcome to use Jan's blessings or other words from this blog without requesting permission. All that's needed is to acknowledge the source. Please include this info in a credit line: "© Jan Richardson. janrichardson.com." For other uses, visit Copyright Permissions.