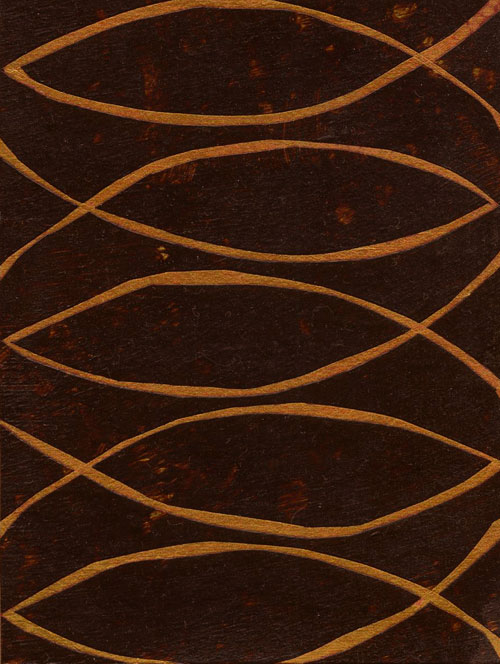 A Gracious Plenty © Jan L. Richardson
Reading from the Gospels, Year A, Proper 13/Ordinary 18/Pentecost +7 (July 31): Matthew 14.13-21
This week finds me preparing to leave for my beloved Grünewald Guild, a remarkable retreat center located in the Cascade Mountains of Washington State. Devoted to exploring and celebrating the connections between art and faith, the Guild is a place of sanctuary for me—a place where I "find my tribe," as my artist friend Peg Carlson-Hoffman (one of the folks who first introduced me to the Guild nearly a decade ago) puts it. And it is a place of sustenance, where there is nourishment that feeds my soul throughout the rest of the year, when creative community is more challenging to come by in my daily life.
I'll be serving as the keynote speaker and pastor in residence for the Guild's Liturgical Arts Week, which will take place August 1-7.  Our theme for the week is Garden, Table, Story. I am terribly excited about the delicious theme and the connections amongst garden and table and story that we'll be exploring and savoring in those days. We have a fantastic faculty for the week—visual artists Laurie Clarke and Kristen Gilje plus my singer/songwriter husband, Garrison Doles, who will be teaching a sacred storytelling class. Though focusing in particular on the rich symbolism and liturgy of the Eucharist/Communion as it takes place in worshiping communities, we'll be giving lots of attention to how we find the presence of the sacred at many different tables, and how we find our way to the table in the first place. The Guild's lovely garden, which feeds us in body and soul each summer, will be a major player all week as we savor its gifts and explore the imagery that gardens provide.
I'm pleased to be heading for the Guild with the taste of this week's gospel reading in my mouth. The feeding of the five thousand (plus) is a story that reminds us of how Christ is so persistent in calling us to the feast, even in those places where there are no actual tables at hand. The story draws our attention and imaginations to how Christ spins the miraculous from the mundane and provides abundance where, to our eyes, there seems only lack. The tale of the feeding bids us remember how little it sometimes takes to make a feast, and that where there is blessing, there is enough. And then some.
Blessing of Enough
I know how small
this blessing seems;
just a morsel
that hardly matches
the sharp hunger
you carry inside you.
But trust me
when I say—
though I can scarcely
believe it myself—
that between
and behind
and beneath
these words
there is a space
where a table
has been laid
a feast
has been prepared
all has been
made ready
for you
and it will be
enough
and more.
P.S. For a previous reflection on this passage, visit A Gracious Plenty. And if you'd like to take a last-minute trip to the Cascade Mountains and linger with us in the garden and at the table and with the story, we have a few spots still available at the Liturgical Arts Week—come join us! More info here at the Guild's website.
Also, I just launched a completely redesigned website at janrichardson.com a few days ago—I'd love for you to come by and visit! Pull up a chair, I'll pour you a cup of tea…