Reading from the Gospels, Epiphany 6, Year B: Mark 1.40-45
Last week the news came that a friend of mine has been diagnosed with a brain tumor. It is large, and it is grim; the doctors measure his life in months, perhaps weeks. A stained glass artist who has devoted his life to finding beautiful ways to capture light, Joe—making his own path as ever—is finding other ways to measure and mark these remaining days. The threads of community that he has tended across the years in such places as the Grünewald Guild are gathering around him now to support him and to make it possible for him to be in places he loves; friends and family have enabled him to return to his home and studio at the artists' community where he lives, and folks from the Guild are plotting a trip where they'll bring Joe back up there.
Living on the other side of the country, I am missing being present for this but am grateful for the words that come across the miles, words that tell of how Joe is entering his dying in much the same way that he has entered his living. The tumor has impacted his speech and visual recognition skills. But a note comes from a friend who writes of how even when Joe struggles with words, "he seems, to me, even more himself than ever. He's almost translucent with grace. And I have been so moved by the 'random' words that, at times, come instead of the one he's trying for. It's almost as if the words that he has most often expressed come easily; blessing, blest, grace, friends, church, my voice, your voice…"
I gather up these words as I ponder the words that Mark offers in the reading from his Gospel this week, words about a leper who finds healing in his encounter with Jesus. "If you choose, you can make me clean," he says to Jesus. Stretching out his hand and touching him, Jesus says, "I do choose. Be made clean!"
It is a mystery to me how Jesus chooses, and where, and why. I cannot fathom how he chooses at times to stretch out his hand, and at other times seems to withhold it; how he chooses against the restoration that he offers with such ease in stories such as this one. Why the leper, and not Joe? Why the mother-in-law of Simon, as we saw last week, and not millions of others across the ages who have lived with illness and pain?
I know, of course, there are few answers to these questions in this lifetime. And I know that it is better to look for the miracles that do come, including the daily wonders of connection in the midst of a world that pushes us toward isolation, the marvels of friendship and community that return to us and gather around us when life breaks us open.
I do not let Christ off the hook for the ways he sometimes chooses. And yet I think about my friend across the country, speaking the words that have come most easily to him. Blessing. Blest. Grace. How in the midst of the tumor that grows and the days that dwindle, there is something in him that is fiercely intact and persistently whole. Friends. Church. That knows still how to capture the light. My voice. Your voice. That rises up to freely proclaim, to offer testimony in the luminous way he has always done and will do until the last breath leaves him.
Joe is having an exhibit at his studio this weekend, wanting to have this chance to share with friends his artwork from across the years. "Bring food. Bring joy," Joe says in the invitation.
This day. This hour. In each moment given to us, may we bring sustenance. May we bring joy. Whatever illness we bear, whatever wounds we carry, may we be ministers of healing to one another, and may the wholeness that persists within us rise up and shine through, offering testimony in the ways that only we can offer.
What the Light Shines Through
A Healing Blessing
For Joe
Where pain
does not touch you.
Where hurt
does not make its home.
Where despair
does not haunt you.
Where sorrow
does not dwell.
Where disease
does not possess you.
Where death
does not abide.
Where horror
does not hold you.
Where fear
does not raise its head.
Where your wounds
become doorways.
Where your scars
become sacred maps.
Where tears
become pools of gladness.
Where delight
attends your way.
Where every kindness
you have offered
returns to you.
Where each blessing
you have given
makes its way back
to you.
Where every grace
gathers around you.
Where the face of love
mirrors your gaze.
Where you are
what the light
shines through.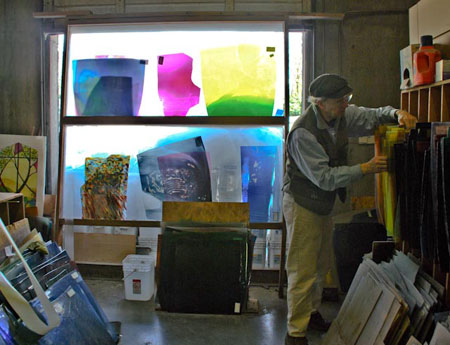 Joe in the studio. Photo by Kristen Gilje.

P.S. For a previous reflection on this passage, visit The Medium and the Message.
[To use the "Testimony" image, please visit this page at janrichardsonimages.com. Your use of janrichardsonimages.com helps make the ministry of The Painted Prayerbook possible. Thank you!]