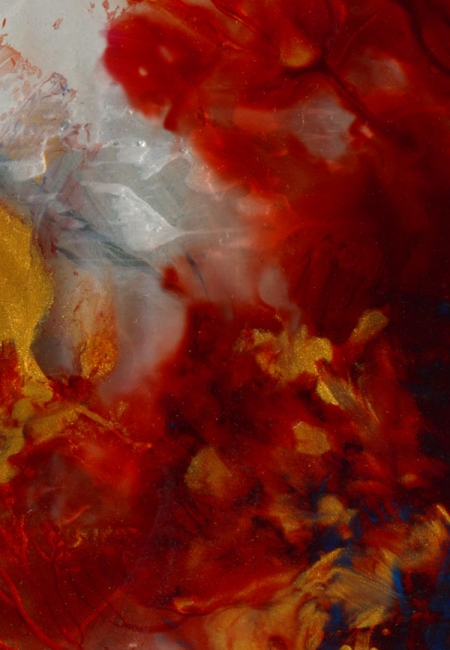 Salted with Fire
© Jan L. Richardson
Reading from the Gospels, Proper 21/Ordinary 26/Pentecost +18, Year B (September 30): Mark 9.38-50
"For everyone will be salted with fire."
—Mark 9.49
I'm back home after a season of away-ness, having given much of the summer to events that took Gary and me across the country and back again. From Washington State, where we had another great experience with the Liturgical Arts Week at the Grünewald Guild, to right down the road in Kissimmee, where I was the preacher for the opening worship service of the Churchwide Gathering of Presbyterian Women, it has been a wondrous season of pouring out as well as being renewed by the rich connections found along the way.
Along with the resting and catching up that are crucial after the past season, I'm returning to the studio and am relieved to be settling back in at my drafting table. I don't have many words yet; like me, they're doing some resting, too, and shoring up their energies for the outpouring that the autumn and Advent will bring. But I wanted to share this image that came as I reflected on this Sunday's gospel lection from Mark.
As I created the "Salted with Fire" piece, I thought of how potters know what happens when salt is added to the fire. Thrown into the kiln, this elemental essence alters the surface of the pot in a fashion that cannot be entirely predicted or controlled. The potter has to trust that when the salt is given to the fire, it will do its work; that, blessed by the intention and focus the potter brings, the salt will make a way for the wild beauty that will come.
Blessing of Salt and Fire
And so, in this season,
may we give ourselves
to the fire
that shows us
what is elemental
and sacramental,
that reveals what remains
after all that does not have
substance or savor
falls away.
May we turn
our eyes
our ears
our hands
to the beauty
for which we were formed
and bear with grace
the patterns
that blossom upon us
who live salted
and singed.
[To use the image "Salted with Fire," please visit this page at janrichardsonimages.com. Your use of janrichardsonimages.com helps make the ministry of The Painted Prayerbook possible. Thank you!]