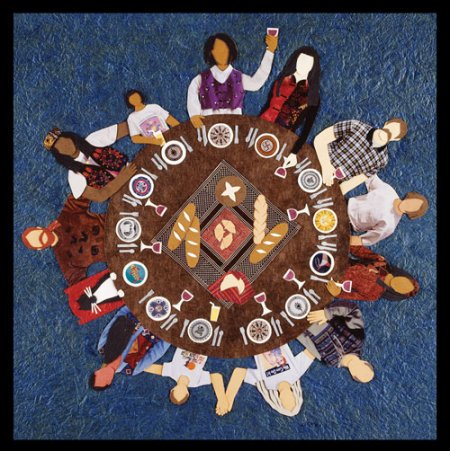 The Best Supper © Jan L. Richardson
Reading from the Gospels for World Communion Sunday
& Proper 22/Ordinary 27/Pentecost +19, Year B (Oct. 7): Mark 10.2-16
"Truly I tell you, whoever does not receive the kingdom of God as a little child will never enter it." And he took them up in his arms, laid his hands on them, and blessed them.
―Mark 10.15-16
And the Table Will Be Wide
A Blessing for World Communion Sunday
And the table
will be wide.
And the welcome
will be wide.
And the arms
will open wide
to gather us in.
And our hearts
will open wide
to receive.
And we will come
as children who trust
there is enough.
And we will come
unhindered and free.
And our aching
will be met
with bread.
And our sorrow
will be met
with wine.
And we will open our hands
to the feast
without shame.
And we will turn
toward each other
without fear.
And we will give up
our appetite
for despair.
And we will taste
and know
of delight.
And we will become bread
for a hungering world.
And we will become drink
for those who thirst.
And the blessed
will become the blessing.
And everywhere
will be the feast.
For a previous reflection on World Communion Sunday, visit The Best Supper, which includes "Table Blessing." And Happy Feast of St. Francis this week! For a reflection on this beloved saint, whose day is October 4, visit Feast of St. Francis.

Update: Many thanks to everyone who has requested permission to use this blessing or "The Best Supper" artwork. For worship services and related settings, you are welcome to use the blessing without requesting permission (though I'd be pleased for you to leave a comment sharing where you'll be using it); all that's needed is to include a line with this info:
© Jan L. Richardson. janrichardson.com
To use the image "The Best Supper," please visit this page at janrichardsonimages.com. Your use of janrichardsonimages.com helps make the ministry of The Painted Prayerbook possible. Thank you!
I also want to invite you to visit the Calendar page on my main website, where you'll find a listing of events that Gary and I will be involved with during the coming months and beyond. We're excited about connecting with folks at gatherings that will take us across the country and back again, and we're especially looking forward to collaborating in cyberspace to offer you an online retreat for Advent and Christmas. Wherever you are, we would love to share some sacred space with you!