Image: Blessing the Dust © Jan Richardson
Readings for Ash Wednesday: Joel 2:1-2, 12-17; Psalm 51:1-17;
2 Corinthians 5:20b – 6:10; Matthew 6:1-6, 16-21
As we work together with him, we urge you also
not to accept the grace of God in vain.
—2 Corinthians 6.1
Blessing the Dust
For Ash Wednesday
All those days
you felt like dust,
like dirt,
as if all you had to do
was turn your face
toward the wind
and be scattered
to the four corners
or swept away
by the smallest breath
as insubstantial—
did you not know
what the Holy One
can do with dust?
This is the day
we freely say
we are scorched.
This is the hour
we are marked
by what has made it
through the burning.
This is the moment
we ask for the blessing
that lives within
the ancient ashes,
that makes its home
inside the soil of
this sacred earth.
So let us be marked
not for sorrow.
And let us be marked
not for shame.
Let us be marked
not for false humility
or for thinking
we are less
than we are
but for claiming
what God can do
within the dust,
within the dirt,
within the stuff
of which the world
is made
and the stars that blaze
in our bones
and the galaxies that spiral
inside the smudge
we bear.
—Jan Richardson
2016 update: "Blessing the Dust" appears in my new book Circle of Grace: A Book of Blessings for the Seasons. You can find the book here.

An invitation into the coming season…
During Lent, most of my creative energies will be going toward the online retreat that Garrison Doles and I will be offering from Ash Wednesday through Easter (February 13 – March 31). We would love for you to join us for this journey and to stay connected with you in this way as Lent unfolds. Intertwining reflection, art, music, and community, the retreat is designed as a space of contemplative grace that you can enter from wherever you are, at any time that works for you.
We sometimes hear from folks who say, "I'd love to do this but I don't have time for a retreat!" We totally get that, and so we have especially designed this retreat so that you can engage as much or as little as you wish, in the way that fits best for you. Rather than being one more thing to add to your Lenten schedule, this retreat is created as a way to open up some spaces for reflection and rest in the midst of your days.
If you enjoy The Painted Prayerbook, the retreat will be a great way to experience the kinds of elements you find here in a more frequent and focused fashion, with added features that will weave through the retreat and help to sustain you throughout the coming season. Plus, participating in the retreat is a great way to support the ministry of The Painted Prayerbook. Most of all, Gary and I would be so pleased to have the gift of your company in these Lenten days, and to enter together into the mysteries and gifts of the season.
If you have questions about the retreat, or concerns about things that you think might hinder you from sharing in the journey, please visit our overview page by clicking the retreat icon below. The overview page also has a link to a bonus page with FAQs. Please feel free to be in touch with me directly if you need further details. And please share this link with your friends—we'd be delighted to travel with them, too! (And we do have group rates available, for folks who want to share the retreat together near or far.) If you'd like to provide the retreat for someone as a gift, let me know, and we can easily make this happen.
Wherever your Lenten path takes you, in whatever company you travel: blessings and more blessings to you. Know that I hold you in prayer. Peace.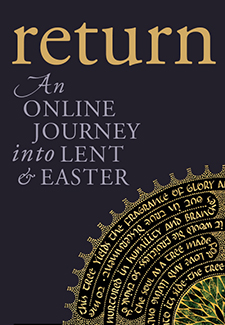 And for a previous reflection and blessing for Ash Wednesday, click the image or title below.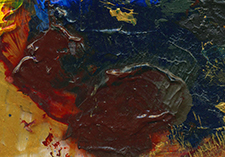 Day 1/Ash Wednesday: Rend Your Heart
For other reflections, blessings, and art for Ash Wednesday, also see my posts The Memory of Ashes, Upon the Ashes (which features the indomitable Sojourner Truth), The Artful Ashes, and Ash Wednesday, Almost.
[To use the image "Blessing the Dust," please visit this page at janrichardsonimages.com. Your use of janrichardsonimages.com helps make the ministry of The Painted Prayerbook possible. Thank you!]