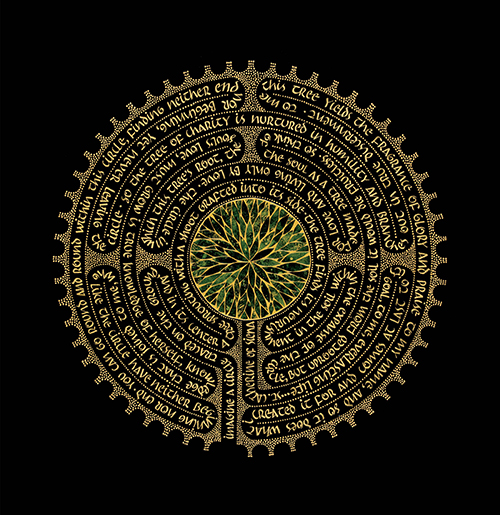 Image: Saint Catherine's Labyrinth © Jan L. Richardson
This Saturday, May 4, is World Labyrinth Day. In celebration of the occasion, I thought I'd share this piece of art that I created for a friend some years ago. It's called Saint Catherine's Labyrinth, and the words along the path are from Saint Catherine of Siena. (You can find the text here on my main website.)
And of course a blessing for the day as well:
Walking Blessing
That each step
may be a shedding.
That you will let yourself
become lost.
That when it looks
like you're going backwards
you may be making progress.
That progress is not the goal anyway,
but presence
to the feel of the path on your skin,
to the way it reshapes you
in each place it makes contact,
to the way you cannot see it
until the moment you have stepped out.
Happy World Labyrinth Day to you, and blessings on your path!
"Walking Blessing" © Jan L. Richardson from In Wisdom's Path: Discovering the Sacred in Every Season.
For more about World Labyrinth Day, visit The Labyrinth Society.
[To use the image "Saint Catherine's Labyrinth," please visit this page at janrichardsonimages.com. Your use of janrichardsonimages.com helps make the ministry of The Painted Prayerbook possible. Thank you!]