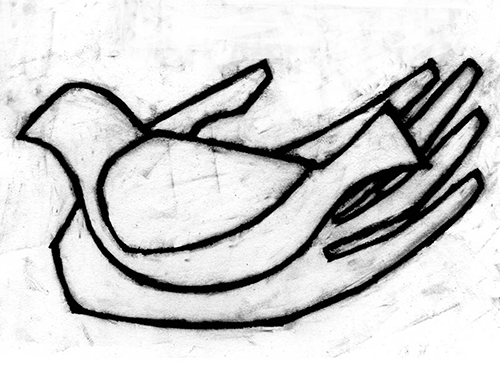 Image: Even the Sparrow (detail) © Jan L. Richardson
With the Feast of Saint Francis coming up on October 4, many churches are planning a Blessing of the Animals service in proximity to the day. In honor of the occasion, and in gratitude for the animals who have graced my life, here's a new blessing for you.
Blessing the Animals
You who created them
and called them good:
bless again these creatures
who come to us
as a blessing
fashioned of fur
or feather
or fin,
formed of flesh
that breathes with
your own breath,
that you have made
from sheer delight,
that you have given
in dazzling variety.
Bless them
who curl themselves
around our hearts,
who twine themselves
through our days,
who companion us
in our labor,
who call us
to come and play.
Bless them
who will never be
entirely tamed
and so remind us
that you love
what is wild,
that you rejoice
in what lives close
to the earth,
that your heart beats
in the heart of these creatures
you have entrusted
to our care.
—Jan Richardson
In memory of Zeke, who always won our battles over who had ownership of my drafting table.

P.S. For a previous reflection on the Feast of Saint Francis, click the image or title below.
Using Jan's artwork…
To use the image "Even the Sparrow (detail)" please visit this page at janrichardsonimages.com. Your use of janrichardsonimages.com helps make the ministry of The Painted Prayerbook possible. Thank you!
Using Jan's words…
For worship services and related settings, you are welcome to use Jan's blessings or other words from this blog without requesting permission. All that's needed is to acknowledge the source. If you're using them in a worship bulletin, please include this info in a credit line:
© Jan L. Richardson. janrichardson.com.