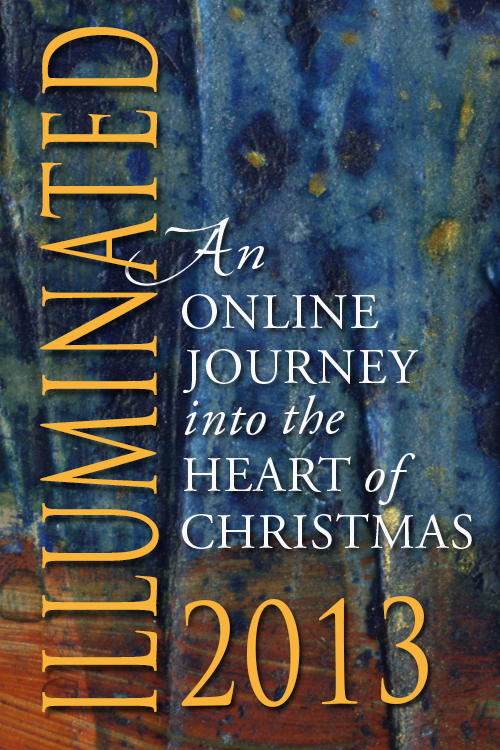 With the Feast of All Saints behind us, it can mean only one thing: Advent is around the corner! As we look toward the coming season, I am especially excited about an adventure that is shimmering on the horizon: our Advent retreat! This year Gary and I will be offering an all-new online retreat for Advent and would love for you to join us. We had such an amazing experience last year of journeying with hundreds of other folks who, like us, wanted to travel through the season with mindfulness and grace. We are eagerly anticipating setting out on the Advent path in good company once again.
If you're hungry to travel through the season in a way that allows thoughtful, creative spaces of calm to naturally arise in the rhythm of your days—instead of seeming like just one more commitment in what can be a frenzied season—this retreat could be just the thing for you! Here's the lowdown:
ILLUMINATED 2013: An Online Journey into the Heart of Christmas
December 1-28
All new for 2013!

Travel toward Christmas in the company of folks who want to move through this season with mindfulness and grace. This online retreat is not about adding one more thing to your holiday schedule. It is about helping you find spaces for reflection that draw you deep into this season that shimmers with mystery and possibility. Intertwining reflection, art, music, and community, this online retreat provides a space of elegant simplicity and a distinctive opportunity to travel through Advent and Christmas in contemplation and conversation with others along the way.
This is an Advent retreat for people who don't have time for an Advent retreat (and for those who do!). We've especially designed the retreat so that you can easily enter into it in the way that works best for you. You don't have to show up at a particular time or place, and you're welcome to engage the retreat as much or as little as you wish. This is for you: a space to breathe deeply, to enter into some creative rest, and to experience renewal that will make a difference in how you move through the season.
Group and congregational rates are available. You can also give the retreat as a gift! For retreat details, FAQs, and registration, visit Illuminated Advent Retreat.
Blessings and peace to you as Advent approaches!