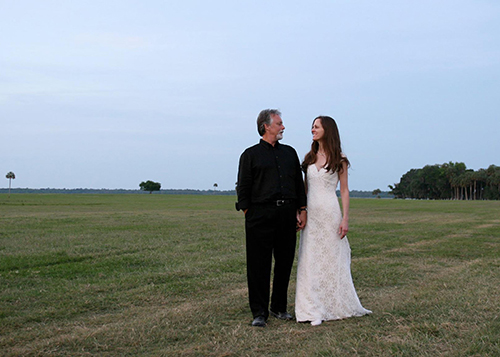 O my dear friends. For those who don't already know, I need to tell you that my beloved husband slipped peacefully from this world on December 2, enfolded in the love and presence of our family and the encompassing of the God who entrusted him to us. I don't need to tell you that I am heartbroken beyond imagining. Please know that the prayers you offered for Gary and all of us provided such solace and sustenance during our vigil with Gary, and will continue to do so as our family finds our way through the coming days. Months. Lifetime.
We held a service to celebrate Gary's life last Friday afternoon. It was heartbreaking and hopeful and wonderfully beautiful. It included much music. Gary's amazing son, Emile, in whom Gary's gift of song lives strong, opened the service by singing Gary's song "Raise This Hour." Gary's also-amazing brothers sang, and Gary's own recordings, including two guitar meditations he created for our Illuminated Advent Retreat, provided the opening and closing music. I can't tell you enough to do the service justice−how honoring it was of Gary and how much solace it provided for me−but I want to share with you some words I wrote for that day. This is a brief remembrance and a blessing for my remarkable, beloved husband; for those who gathered to remember and grieve and celebrate; and now for you. Our dear friends Peg and Chuck Hoffman, who had so recently shared in our wedding, read these words for me.

Remembering
In the entirety of my life, what I am most proud of is this: that when Gary Doles crossed my path, I recognized him. Every single day, I knew what I had in him. This also means that I know all too keenly, with the precision of a knife's edge, what I have lost, and all too soon.
I think we have all been carrying the sense of how horribly unfair this is. And it is. In the midst of my devastation and desolation, I have also been remembering some of the stories that Gary would tell me about his life. I won't tell you the stories just now, but I will tell you that it is a marvel and a miracle that Gary Doles survived long enough for me to meet him. And for that I give thanks. Along with the heartbreak, I will always carry such deep gratitude for the years we had together, and for the extravagant grace of loving and being loved by him. Still.
After Gary died on Monday, surrounded by the prayers and the presence of our remarkable family, I stayed in the room as his nurse removed everything that had helped to keep him alive during the awful and beautiful vigil that we had kept with him for eighteen days. I watched as she removed the ventilator tube that had kept him breathing, watched as she took out the seemingly innumerable lines that had delivered medications. Finally Gary was shed of everything that had kept him living, everything that had tethered him until it became clear that nothing would return him to us. I placed my hand against his chest, and commented to the nurse that it felt so strange to feel a heartbeat, and know that it was only my own pulse. She said, "His heart beats in you now."
In me. In us. Thank you for being part of the life of my husband whose heart beat with such strength and continues to echo in us still.
Where Your Song Begins Again
A Blessing
Beloved,
I could not bear it
if this blessing ended
with the final beat
of your heart,
if it left
with the last breath
that bore you away
from here.
I could not stand
the silence,
the stillness
where all
had once been song,
had been story,
had been the cadenced liturgy
of your life.
So let it be
that this blessing
will abide
in the pulse
that moves us
from this moment
to the next.
Let it be
that you will breathe
in us here bereft
but beloved still.
Let it be
that you will make your home
in the chamber
of our heart
where your story
does not cease,
where your words
take flesh anew,
where your song
begins again.