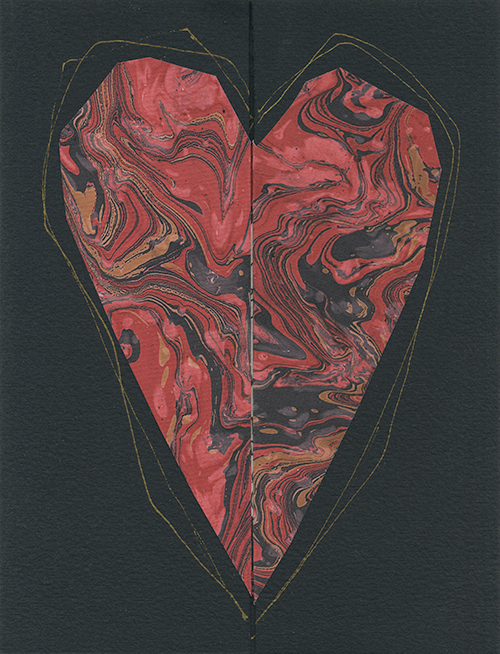 Image: Valentine © Jan Richardson
Gary and I typically didn't make a big deal out of Valentine's Day. It wasn't for any lack of romance; in fact, just the opposite. In a relationship where our primary name for each other was always Sweetheart, Valentine's Day simply seemed redundant.
Still, we gave a nod to the day by exchanging cards. And chocolates. Just a few days ago, while sorting through some of Gary's things—a wrenching task I am having to undertake in tiny doses—I discovered that my sweetheart had saved every single card I had ever given to him: every Valentine's Day card, every birthday card, every anniversary card. Many of them were handmade. I created the one above—in which the heart opens from the center to reveal another heart beneath—for one of our first Valentine's Days.
Looking at the card now, I think of the nurse's words just after Gary died. I had placed my hand on his chest and remarked on how strange it was to feel a heartbeat and know it was only my own pulse. "His heart beats in you now," she said to me.
Though Gary and I didn't make a big deal of Valentine's Day, February 14 will still give me pause this time around. I know I'm not alone in not looking forward to the day. But instead of simply dreading it, I thought this seemed like a good starting place for a blessing. If you're living with a broken heart right now, or know someone who is, this blessing is for you. In the midst of the breaking, may our hearts never cease to open.
Blessing for the Brokenhearted
There is no remedy for love but to love more.
—Henry David Thoreau
Let us agree
for now
that we will not say
the breaking
makes us stronger
or that it is better
to have this pain
than to have done
without this love.
Let us promise
we will not
tell ourselves
time will heal
the wound,
when every day
our waking
opens it anew.
Perhaps for now
it can be enough
to simply marvel
at the mystery
of how a heart
so broken
can go on beating,
as if it were made
for precisely this—
as if it knows
the only cure for love
is more of it,
as if it sees
the heart's sole remedy
for breaking
is to love still,
as if it trusts
that its own
persistent pulse
is the rhythm
of a blessing
we cannot
begin to fathom
but will save us
nonetheless.
—Jan Richardson
2017 update: This blessing appears in Jan's new book, The Cure for Sorrow.
P.S. If you are new to The Painted Prayerbook, I welcome you, and I invite you to read the brief remembrance and blessing I wrote for my husband and partner in ministry, who died at the beginning of Advent, several weeks after experiencing complications during what we had anticipated would be routine surgery. You can find the remembrance and blessing here: Beloved: A Blessing for Garrison Doles.
Also, Gary and I had planned to offer a new online retreat for Lent. You can imagine how it feels to do this without him, but I do not want to miss the opportunity to travel through the season with you. Intertwining reflection, art, music, and community, this retreat is a great way to journey toward Easter, from anywhere you are. Click the image below for details and registration. Individual, group, and congregational rates are available.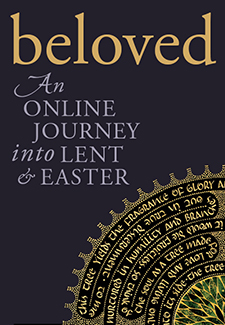 Using Jan's words…
For worship services and related settings, you are welcome to use Jan's blessings or other words from this blog without requesting permission. All that's needed is to acknowledge the source. Please include this info in a credit line: "© Jan Richardson. janrichardson.com." For other uses, visit Copyright Permissions.
Save
Save