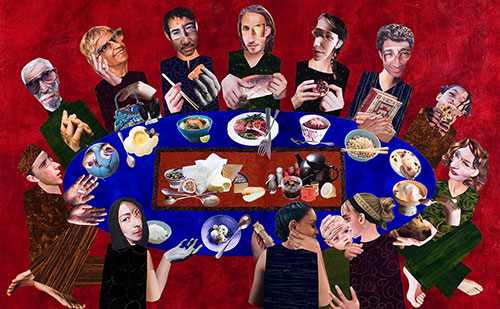 Image: The Welcome Table © Jan Richardson
Just a few days ago, I set out on a road trip that will carry me across many miles over the coming weeks. I have found that traveling seems to be some of the medicine my grieving soul most needs at this point, so I have packed up my laptop and art supplies and am giving myself to the road. Although I know some of the geographic locations I am bound for, I know the highway will hold a few mysteries. This is part of its appeal.
One of the most compelling things about taking to the road is that it will bring me to the tables of friends and family. Mealtimes are among the times I miss Gary most. Even as I am grateful for memories of countless meals we shared in the communion of our daily life, his empty space at the table is too stark and raw just now. So when I receive invitations to be with friends and family—like the one from my sister, who has said, on more than one occasion, Come to Toronto, we'll feed you—I am drawn to go.
In this long and sorrowing season, I am thankful for the solace of other tables, for those spaces of welcome where there is always room for me. With World Communion Sunday coming up this week, I have those inviting tables especially on my mind and wanted to share with you this image I created some years ago. It's called The Welcome Table and was commissioned by Saint Luke's United Methodist Church in Orlando, Florida, where I once served as a pastor. Over the course of two years, this large piece of art (about 4 x 6 feet) took shape on the small dining table in the cozy studio apartment where I lived before Gary and I were married. As I created this image over those years, I thought of so many tables I have savored. Those memories are embedded in this image of Christ sharing the table with his friends: a table where, as you can see, there is always a space to welcome one more.
World Communion Sunday reminds us that Christ calls us to a table where the welcome is wide. He offers us a space with bread and wine in abundance to give solace to our sorrow and to stir our joy. Even as Christ invites us to this table, he does not mean for us to linger here forever. He gives us sustenance in order to send us forth, carrying a space of welcome within us, called to offer it to those we meet: one more, and one more, and one more…
A couple of years ago, I wrote a blessing for World Communion Sunday. I called it "And the Table Will Be Wide," and I posted it with another table image that I titled The Best Supper. I would love to share this blessing and artwork with you; you can find them by clicking the image or title below. As we draw near to World Communion Sunday, may you find welcome and solace at the table, and may you receive the sustenance and joy of the Christ who sends us into a hungering world.

For a reflection on the Gospel reading for this Sunday, click the image or title below.

For a blessing for the Feast of Saint Francis (coming up on October 4), click the image or title below.
Looking ahead…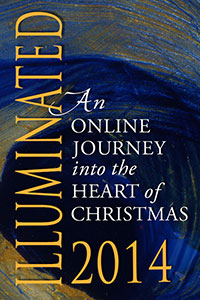 ILLUMINATED 2014 coming soon! I am looking forward to offering an all-new online retreat for Advent. Intertwining reflection, art, music, and community, ILLUMINATED 2014 will be a great way to journey through Advent from anywhere you are, in the way that fits you best. The retreat will begin on November 30, and I would love for you to join us. Registration and more info coming soon. Group & congregational rates available.
Using Jan's artwork…
To use the image "The Welcome Table," please visit this page at janrichardsonimages.com. (This is also available as an art print. After clicking over to the image's page on the Jan Richardson Images site, just scroll down to the "Purchase as an Art Print" section.) Your use of janrichardsonimages.com helps make the ministry of The Painted Prayerbook possible. Thank you!
Using Jan's words…
For worship services and related settings, you are welcome to use Jan's blessings or other words from this blog without requesting permission. All that's needed is to acknowledge the source. Please include this info in a credit line: "© Jan Richardson. janrichardson.com." For other uses, visit Copyright Permissions.