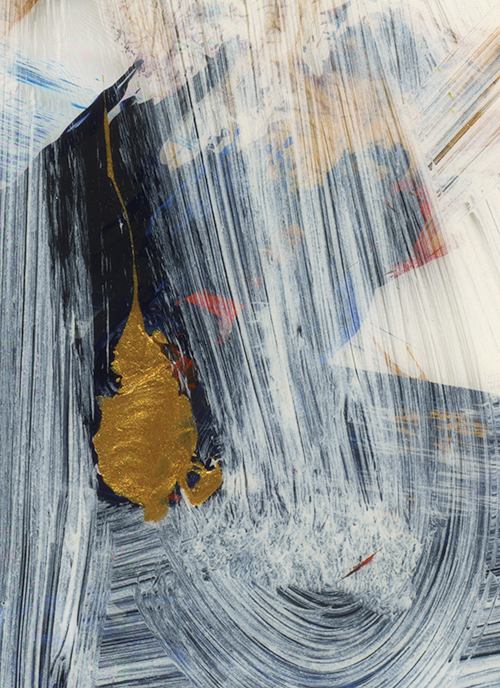 Image: So That You May Know the Hope © Jan Richardson
Reading from the Epistles for Christ the King/Reign of Christ Sunday: Ephesians 1.15-23
So that, with the eyes of your heart enlightened,
you may know what is the hope to which
he has called you.
– Ephesians 1.18
Hope is a hard word for me these days. Last Friday marked a year since Gary had the surgery that would begin to bear him away from us. I think of those who waited with me with such hope throughout that surgery, throughout the two emergency surgeries that would follow, and throughout all the days we kept vigil with Gary until it became clear our vigil was at an end. What is the use of hoping, when hope comes to such a pass?
For those in grief, it is common to encounter well-meaning people who seek to stir our hope by schooling us in God's ineffable ways, who want to tell us our loss is part of a larger plan and a bigger mystery that we cannot know from here but that we will understand one day. I have a tremendous tolerance for mystery, a great capacity to abide the unknown. In the wake of my husband's death, I am clear that when it comes to suffering, in the astounding variety of forms by which we experience it in this world, it is not enough to chalk it up to mystery, to a larger plan. It's not that I'm not interested in the bigger mystery, or in knowing that I might have a better grasp of it someday in another world. It's just that someday is not, in itself, sufficient to get me through this day, to move me from one moment to the next in this world where Gary is not.
In the midst of my grief, what I know is that hope, inexplicably, has not left me. That it is stubborn. That it lives in me like a muscle that keeps reaching and stretching, or a lung that keeps working even when I do not will it, persisting in the constant intake and release of breath on which my life depends.
The apostle Paul (or, perhaps, the author who wrote in his name) well knows the deep presence of mystery in our life with God. (For now we see in a mirror, dimly, he writes in 1 Corinthians 13.) But he, too, is uninterested in simply abiding the mystery or locating our hope in a "someday" realm. In this week's passage from Ephesians, he prays quite specifically for his friends to be illuminated here and now, praying that God will give them a spirit of wisdom and revelation as they come to know God. He prays that the eyes of their hearts will be enlightened. So that you may know, he writes, what is the hope to which he has called you, what are the riches of his glorious inheritance among the saints, and what is the immeasurable greatness of his power for us who believe, according to the working of his great power (18-19).
Paul is talking about a knowing that is tied with resurrection. He is talking about a hope that is bound together with the life of the risen Christ. God put this power to work in Christ when he raised him from the dead, Paul writes in verse 20. Paul makes clear that Christ, in turn, is putting his power to work in us, and not just for someday, but also for now: that this hope is active in our lives as we press into the mystery that attends us. Even as Paul writes about the risen Christ being seated in the heavenly places, he also bears witness to a Christ who wore our flesh and abides with us still, hoping for us when our hope is shattered, breathing new life into us, encompassing us in the arms of a community that holds us with hope.
Hope is not always comforting or comfortable. Hope asks us to open ourselves to what we do not know, to pray for illumination in this life, to imagine what is beyond our imagining, to bear what seems unbearable. It calls us to keep breathing when beloved lives have left us, to turn toward one another when we might prefer to turn away. Hope draws our eyes and hearts toward a more whole future but propels us also into the present, where Christ waits for us to work with him toward a more whole world now.
What are you hoping for these days? Who helps you hope when it is hard to hope? How does your hope call you to see what is here and now?
Blessing of Hope
So may we know
the hope
that is not just
for someday
but for this day—
here, now,
in this moment
that opens to us:
hope not made
of wishes
but of substance,
hope made of sinew
and muscle
and bone,
hope that has breath
and a beating heart,
hope that will not
keep quiet
and be polite,
hope that knows
how to holler
when it is called for,
hope that knows
how to sing
when there seems
little cause,
hope that raises us
from the dead—
not someday
but this day,
every day,
again and
again and
again.
—Jan Richardson
For previous reflections for Christ the King/Reign of Christ Sunday, visit Christ Among the Scraps and You Who Bless.
An Advent Journey…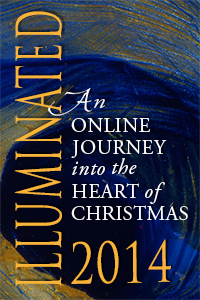 ILLUMINATED 2014 — Registration now open!
Are you hungry for an experience that invites you into Advent without stressing your schedule? This online retreat is not about adding one more thing to your holidays. It is about helping you find spaces for reflection that draw you deep into this season that shimmers with mystery and possibility. Offering a space of elegant simplicity as you journey toward Christmas, the Illuminated retreat fits easily into the rhythm of your days, anywhere you are. Begins November 30. For info and registration, visit ILLUMINATED 2014. Individual, group, & congregational rates available.
Using Jan's artwork…
To use the image "So That You May Know the Hope," please visit this page at janrichardsonimages.com. (This is also available as an art print. After clicking over to the image's page on the Jan Richardson Images site, just scroll down to the "Purchase as an Art Print" section.) Your use of janrichardsonimages.com helps make the ministry of The Painted Prayerbook possible. Thank you!
Using Jan's words…
For worship services and related settings, you are welcome to use Jan's blessings or other words from this blog without requesting permission. All that's needed is to acknowledge the source. Please include this info in a credit line: "© Jan Richardson. janrichardson.com." For other uses, visit Copyright Permissions.