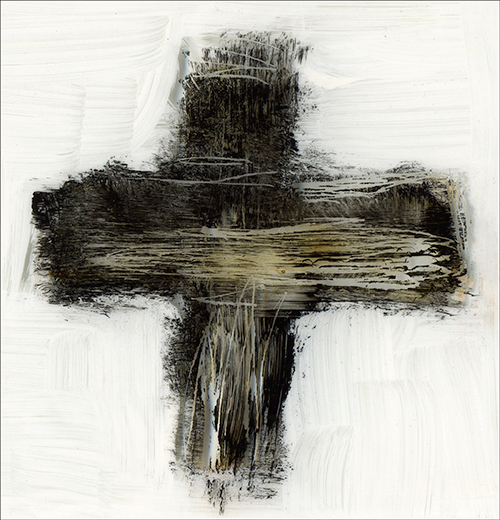 Image: Ash Wednesday Cross © Jan Richardson
Readings for Ash Wednesday: Joel 2:1-2, 12-17; Psalm 51:1-17;
2 Corinthians 5:20b-6:10; Matthew 6:1-6, 16-21
Let me hear joy and gladness.
—Psalm 51.8
We buried my husband's ashes last April, two weeks after Easter. Gary's ashes rest now in a stand of palmetto trees on the farm that's been in my family for generations; the farm where, just a few short years earlier, Gary and I were married on a gorgeous spring day. As our beautiful family gathered by the palmettos last April, in sight of the barn where we had been married so recently, I was astonished by the brevity of the span between those two days.
On that day last April, I told our family about how, as Gary and I had planned our wedding, we knew we wanted it to be a day of blessing. So blessings wove throughout that day of celebration, offered by family and friends during the ceremony and reception. I also told our family that as the day of burying Gary's ashes drew near, I had longed for it to be a day of blessing as well. And so, in the midst of our sorrow and grief, we offered blessings in celebration of the astonishing life that had come among us, and that lingers with us still.
In that spirit, as this Ash Wednesday approaches, I want to share a blessing with you. It's one that I've shared here before. I am sharing it again because this blessing—which I wrote before Gary's death—is one that I need to claim for myself, now more than ever. I need to claim the blessing that lives among the ashes. I want to be marked by that blessing, and by the Holy One who knows what to do with dust.
As Ash Wednesday and Lent draw near once again, what blessing do you need to claim from the ashes?
Blessing the Dust
For Ash Wednesday
All those days
you felt like dust,
like dirt,
as if all you had to do
was turn your face
toward the wind
and be scattered
to the four corners
or swept away
by the smallest breath
as insubstantial—
did you not know
what the Holy One
can do with dust?
This is the day
we freely say
we are scorched.
This is the hour
we are marked
by what has made it
through the burning.
This is the moment
we ask for the blessing
that lives within
the ancient ashes,
that makes its home
inside the soil of
this sacred earth.
So let us be marked
not for sorrow.
And let us be marked
not for shame.
Let us be marked
not for false humility
or for thinking
we are less
than we are
but for claiming
what God can do
within the dust,
within the dirt,
within the stuff
of which the world
is made
and the stars that blaze
in our bones
and the galaxies that spiral
inside the smudge
we bear.
—Jan Richardson
from Circle of Grace: A Book of Blessings for the Seasons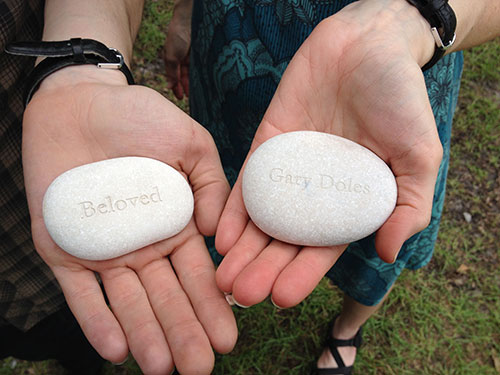 With Gary's wondrous son on the day we buried Gary's ashes.

Previous posts: I have a number of reflections and blessings for Ash Wednesday; to visit these, begin with this post at Ash Wednesday: The Terrible, Marvelous Dust.
For a broken heart: If Valentine's Day is a difficult day for you or someone you know, I invite you to visit A Blessing for the Brokenhearted.
New from Jan Richardson
CIRCLE OF GRACE: A Book of Blessings for the Seasons
Within the struggle, joy, pain, and delight that attend our life, there is an invisible circle of grace that enfolds and encompasses us in every moment. Blessings help us to perceive this circle of grace, to find our place of belonging within it, and to receive the strength the circle holds for us. —from the Introduction
Beginning in Advent and moving through the sacred seasons of the Christian year, Circle of Grace offers Jan's distinctive and poetic blessings that illuminate the treasures each season offers to us. A beautiful gift in every season. Available in print and ebook.
Using Jan's artwork…
To use the image "Ash Wednesday Cross," please visit this page at janrichardsonimages.com. Your use of janrichardsonimages.com helps make the ministry of The Painted Prayerbook possible.
Using Jan's words…
For worship services and related settings, you are welcome to use Jan's blessings or other words from this blog without requesting permission. All that's needed is to acknowledge the source. Please include this info in a credit line: "© Jan Richardson. janrichardson.com." For other uses, visit Copyright Permissions.