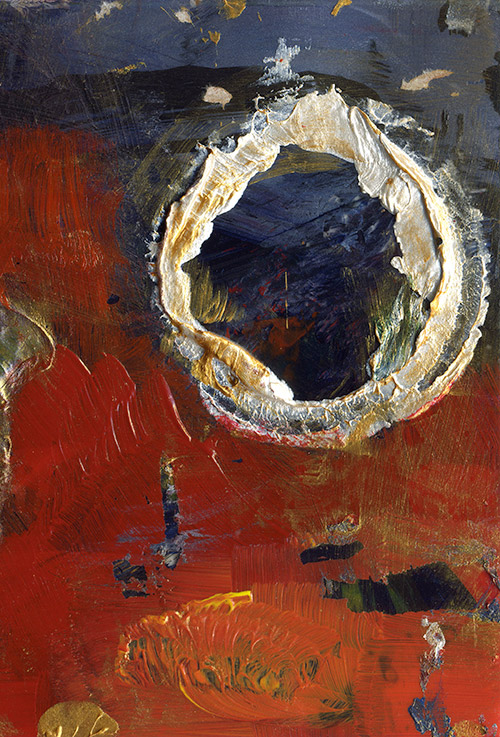 Image: End and Beginning  © Jan Richardson
I was in Ireland when the news came that in Orlando, where I make my home, 49 people had been killed in an attack at Pulse nightclub. It has been such a strange sorrow, returning home to a city so different than the one I left. And yet, watching the care and tenderness with which people have been turning toward each other in the wake of staggering violence, the city seems in many ways even more itself, in that beautiful and terrible way that grief has of bringing to the surface what is deepest in us.
From Ireland, after hearing the news, I shared the "Blessing in a Time of Violence" that I wrote last fall, and I grieved how timely the blessing is, again and again. It has been wonderful and awful to see how that blessing continues to travel, and to hear from folks who, searching for words on the heels of yet another fresh horror in the world, are finding the blessing for the first time.
It is a new week. I enter it with trepidation, wondering what news the coming days might hold. I enter it with wild and stubborn hope, praying we will, in the best possible ways, become even more ourselves.
I am entering the week, too, with another blessing on my mind. This is one that I wrote for my blog The Advent Door a couple of years ago; I included it in my new book, Circle of Grace. I want to share the blessing with you here. In every place where a world is ending, may we turn toward one another with wild and stubborn hope.
Blessing When the World is Ending
Look, the world
is always ending
somewhere.
Somewhere
the sun has come
crashing down.
Somewhere
it has gone
completely dark.
Somewhere
it has ended
with the gun,
the knife,
the fist.
Somewhere
it has ended
with the slammed door,
the shattered hope.
Somewhere
it has ended
with the utter quiet
that follows the news
from the phone,
the television,
the hospital room.
Somewhere
it has ended
with a tenderness
that will break
your heart.
But, listen,
this blessing means
to be anything
but morose.
It has not come
to cause despair.
It is simply here
because there is nothing
a blessing
is better suited for
than an ending,
nothing that cries out more
for a blessing
than when a world
is falling apart.
This blessing
will not fix you,
will not mend you,
will not give you
false comfort;
it will not talk to you
about one door opening
when another one closes.
It will simply
sit itself beside you
among the shards
and gently turn your face
toward the direction
from which the light
will come,
gathering itself
about you
as the world begins
again.
—Jan Richardson
from Circle of Grace
Using Jan's artwork…
To use the image "End and Beginning," please visit this page at janrichardsonimages.com. (This is also available as an art print. After clicking over to the image's page on the Jan Richardson Images site, just scroll down to the "Purchase as an Art Print" section.) Your use of janrichardsonimages.com helps make the ministry of The Painted Prayerbook possible. Thank you!
Using Jan's words…
For worship services and related settings, you are welcome to use Jan's blessings or other words from this blog without requesting permission. All that's needed is to acknowledge the source. Please include this info in a credit line: "© Jan Richardson. janrichardson.com." For other uses, visit Copyright Permissions.