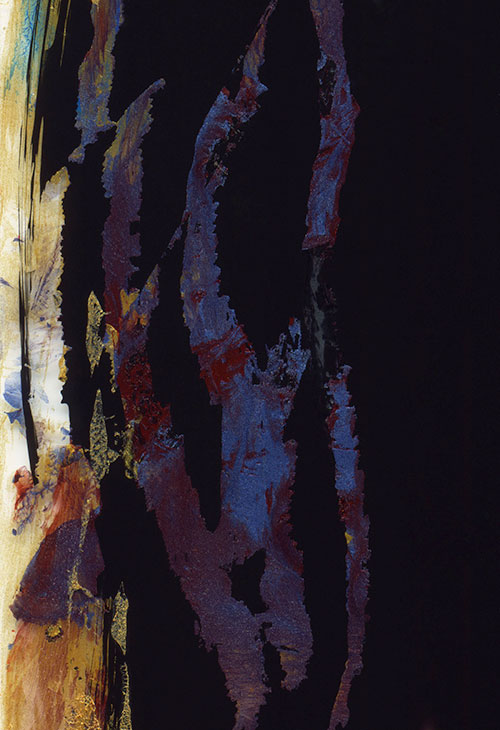 Image: Grace in the Dark © Jan Richardson
It was three years ago this week that we learned Gary had a brain aneurysm. Four months later, at the end of a surgery that should have handily dealt with the aneurysm, Gary's neurosurgeon stepped into the waiting room and said, It did not go as we expected.
And the world cracked open.
I'm thinking a lot about news these days—news that comes suddenly, news that comes after long waiting, news that we never wanted, news that begins the ending of the life we have known.
I pray such news is far away for you. But when it comes, if it comes, I pray that in the rending, a blessing will be waiting to enfold you.
Blessing for Getting the News
I don't know
how it will be
for you.
For me,
when the news came—
when it sat down
across from me in the
waiting room
at 4 a.m.,
wearing scrubs and
speaking words awful
and full of
strangeness—
it came with
a humming in
my head,
an endless, echoing buzzing
that would never
entirely leave.
I can hardly tell you
the words the news used—
others would piece that
together for me,
later—
but I can tell you that
in the humming,
a whole other conversation
was happening.
In that conversation,
I remember wanting
to appear calm
while the world
was beginning the rending
from which it
never would return.
In that conversation,
I remember wanting
to be the wife
who could withstand
what the news
was saying to me
even as I could
hardly hear it.
In that conversation,
I remember wanting to ask
if someone could please
get me a blanket already
because I was shaking so hard
I thought I would shatter.
I do not know
how it will be
for you.
But when
the news comes,
may it be attended
by every grace,
including the ones
you will not be able
to see now.
When the news comes,
may there be hands
to enfold and bless,
even when
you cannot receive
their blessing now.
When the news comes,
may the humming
in your head
give way to song,
even if it will be
long and long
before you can
hear it,
before you can
comprehend the love
that latched onto you
in the rending—
the love that bound itself to you
even as it began its leaving
and has never
let you go.
—Jan Richardson
from a forthcoming book of blessings
Using Jan's artwork…
To use the image "Grace in the Dark," please visit this page at janrichardsonimages.com. (This is also available as an art print. After clicking over to the image's page on the Jan Richardson Images site, just scroll down to the "Purchase as an Art Print" section.) Your use of janrichardsonimages.com helps make the ministry of The Painted Prayerbook possible. Thank you!
Using Jan's words…
For worship services and related settings, you are welcome to use Jan's blessings or other words from this blog without requesting permission. All that's needed is to acknowledge the source. Please include this info in a credit line: "© Jan Richardson. janrichardson.com." For other uses, visit Copyright Permissions.