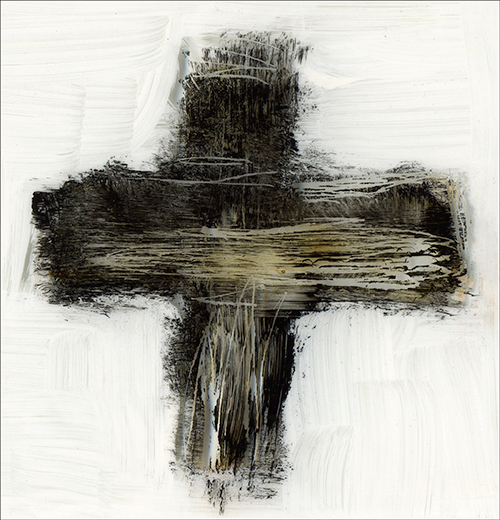 Image: Ash Wednesday Cross © Jan Richardson
Readings for Ash Wednesday: Joel 2:1-2, 12-17; Psalm 51:1-17;
2 Corinthians 5:20b-6:10; Matthew 6:1-6, 16-21
Did you not know
what the Holy One
can do with dust?
—from The Terrible, Marvelous Dust
The Painted Prayerbook, February 2015
Did you not know what the Holy One can do with dust? When I wrote these words as part of an Ash Wednesday blessing a few years ago, I could not have imagined how much I would need those words for myself, and how soon. Gary died later that year, just as the season of Advent was beginning. In the devastation, the question I had posed in that Ash Wednesday blessing would return to me, coming both to challenge and console. Did you not know what the Holy One can do with dust?
We are entering the season that begins with a smudge. That smudge is a testimony to what survives. It is a witness to what abides when everything seems lost. It is a sign that what we know and love may, for a time, be reduced to dust, but it does not disappear. We belong to the God who well knows what to do with dust, who sees the dust as a place to dream anew, who creates from it again and again.
Life will continually lay us bare, sometimes with astonishing severity. In the midst of this, the season of Lent invites us to see what is most elemental in us, what endures: the love that creates and animates, the love that cannot be destroyed, the love that is most basic to who we are. This season inspires us to ask where this love will lead us, what it will create in and through us, what God will do with it in both our brokenness and our joy.
Here at The Painted Prayerbook, we have traveled through Ash Wednesday and Lent ten times. As Lent approaches once again, I have gathered up an armful of reflections I've written here for Ash Wednesday over the past decade. I offer them in blessing and in hope, that in the season that lies ahead of us, we will allow God to create us anew.
Ash Wednesday: A Blessing in the Ashes
Ash Wednesday: The Terrible, Marvelous Dust
Ash Wednesday: The Hands That Hold the Ashes
Day 1/Ash Wednesday: Rend Your Heart
The Memory of Ashes
Upon the Ashes
The Artful Ashes
Ash Wednesday, Almost

FOR A BROKEN HEART: If Valentine's Day is difficult for you or someone you know, I invite you to visit A Blessing for the Brokenhearted.
Using Jan's artwork…
To use the image "Ash Wednesday Cross," please visit this page at janrichardsonimages.com. (This is also available as an art print. After clicking over to the image's page on the Jan Richardson Images site, just scroll down to the "Purchase as an Art Print" section.) Your use of janrichardsonimages.com helps make the ministry of The Painted Prayerbook possible. Thank you!
Using Jan's words…
For worship services and related settings, you are welcome to use Jan's blessings or other words from this blog without requesting permission. All that's needed is to acknowledge the source. Please include this info in a credit line: "© Jan Richardson. janrichardson.com." For other uses, visit Copyright Permissions.